ROWAN COUNTY, N.C. - Rowan County Sheriff Kevin Auten was emotional as he spoke about Erica Parsons during a news conference on Monday.
[SPECIAL SECTION: Erica Parsons Case]
"Unfortunately, we never had a chance to find her alive," he said.
Auten revealed for the first time that Erica was dead long before she was even reported missing.
"We're going to get her to a good resting spot and then we're going to continue to seek justice," Auten said.
The sheriff also made clear that while Erica's adoptive father Sandy Parsons led investigators to her body, no plea deal was made.
"There have been instances where individuals who are incarcerated want to cooperate with authorities," criminal defense attorney James Wyatt said, "And do it sometimes to try and benefit themselves even though they don't have a deal."
Wyatt said Sandy's knowledge of the location of Erica's remains is evidence that could be used against him later.
Authorities are waiting for the results from the medical examiner to move forward but Wyatt said the results could present new challenges.
"It may be difficult to establish with any certainty a time of death. It may be very difficult to determine a cause of death," he said.
He said circumstantial evidence, much of which has been gathered over the past three years, will likely play a large role moving forward.
"Well, this case is unusual because in many cases the body is found first, then the investigation occurs. In this case, it's been the opposite," Wyatt said.
He said in the next six months, it's likely the district attorney's office will be able to make a decision to bring any charges with the evidence they now have.
---
Skeletal remains of Erica Parsons discovered
Authorities confirmed to Channel 9 that the skeletal remains of Erica Parsons were discovered Tuesday in Chesterfield County.
[PHOTOS: Wooded area where Erica Parsons' remains found]
The property is off Moore Road, near Pageland, South Carolina.
Family members have set up a Go Fund Me account to help assist the Rowan County Sheriff's Department raise funds for a monument for Erica.
The public can help with the cost of Erica's marker and angel by donating to the Prevent Child Abuse Rowan County organization. Donations can be mailed to 130 Woodson Street, Salisbury, NC 28144.
[PHOTOS: Vigil held Friday night for Erica]
Family and unidentified law enforcement sources told Channel 9 that Erica's adoptive father, Sandy Parsons, led investigators to the remains.
Sources said Erica's remains were buried in a shallow grave.
On Friday morning, family members visited the site where her remains were found. They broke down and held each other, Channel 9 reporter Greg Suskin said.
Erica's adopted brother reported her missing in July 2013, but investigators discovered the Rowan County girl had not been seen since 2011.
[TIMELINE: Erica Parsons case]
At the time, she was just 13 years old.
Erica's aunt, Teresa Goodman, said officials struck a deal with Sandy Parsons from prison, where he and his wife, Casey, are both serving sentences for accepting federal benefits for Erica after she disappeared.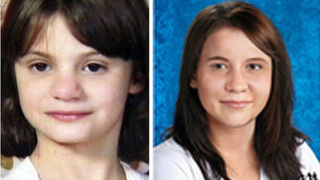 (Erica Parsons age progression photo released in 2016)
Goodman said she and a private investigator searched the same area near Pageland in July where Erica's remains were ultimately found, but came up empty.
Goodman said she hoped to find Erica alive but is thankful she's been found.
"It's been a long hard five years not knowing where she was," Goodman said.
---
Channel 9 coverage on the Erica Parsons case:
---
Adoptive parents in prison on federal fraud convictions
Erica's adoptive parents, Casey and Sandy Parsons, said they had sent her to live with a relative in Asheville, but that relative did not exist.
Investigators were skeptical, and searched properties for the girl's remains over the next several months.
"That's my fear, that something has happened," Erica Parsons' grandfather Steve Parsons said as the investigation continued in 2013.
Federal investigators arrested Casey and Sandy in 2014 on 76 federal charges for taking benefits for adoption assistance while Erica was missing.
Both are serving time in federal prison after a sentencing hearing in March 2015.
Casey was sentenced to 10 years, and Sandy sentenced to eight years.
Appeals from the couple were denied, and at the time, Erica's disappearance remained a mystery.
Sandy and Casey did not go to court for Erica's disappearance or the alleged abuse, but the judge at the sentencing said the evidence that suggested Erica was dead was overwhelming.
"You embraced a plan to get rid of her," the judge told Casey Parsons that day. "You covered up your evil act. You are morally bankrupt."
Casey and Sandy were never charged in connection to the girl's disappearance.
In July, Channel 9 spoke to Erica's aunt and adoptive sister. They believed Casey and Sandy knew where Erica was located.
They said that when they visited Sandy in prison he said he would tell investigators where Erica was if they gave him a deal.
The investigation into the disappearance of Erica Parsons continued and remained active with numerous leads followed throughout North Carolina and other states, including South Carolina and California. The FBI and the SBI and other agencies assisted in many ways with the leads and the investigation.
In August of 2016, investigators with the Rowan County Sheriff's Office and the FBI obtained additional leads that confirmed that Erica Parsons was more than likely deceased.
Erica's remains were taken to Rowan County, North Carolina, last week.