CHARLOTTE, N.C. — Foreign athletes are being lured thousands of miles away from their homes to play sports in Charlotte.
Now, for the first time, one of those young athletes is telling his story of heartbreak and healing.
Tobi Durojaiye's smile lights up the room but it's his shot that caught the eye of a recruiter 6,000 miles away.
[ [ALSO READ: Charlotte school leader allegedly hid foreign students from Homeland Security] ]
He was just 15 in Nigeria when he says a U.S. recruiter promised him a high school education if he played basketball in Florida.
"On the website, it showed a legit school. They showed all these pictures of students in the lab, playing basketball and all that," Durojaiye recalled.
Durojaiye's parents agreed to let him go because it sounded like his chance at the American dream.
When Durojaiye flew into in the U.S., the coach told him he'd be playing in Dallas instead.
When Durojaiye landed in Texas he realized the school he was supposed to attend didn't exist.
"That was really confusing, I started panicking because there's no education, my mom's calling me, my sisters are calling me like, 'Are you going to school?'" he described.
While there wasn't a school, Durojaiye says there was a basketball team. He says it looked like a legitimate one on the court, often playing against local schools.
Over the next 12 months, he was moved from Dallas to Boston before finally landing on a different basketball team in Charlotte.
"It was like déjà vu again, getting taken advantage of again. It was a really dark time," Durojaiye described.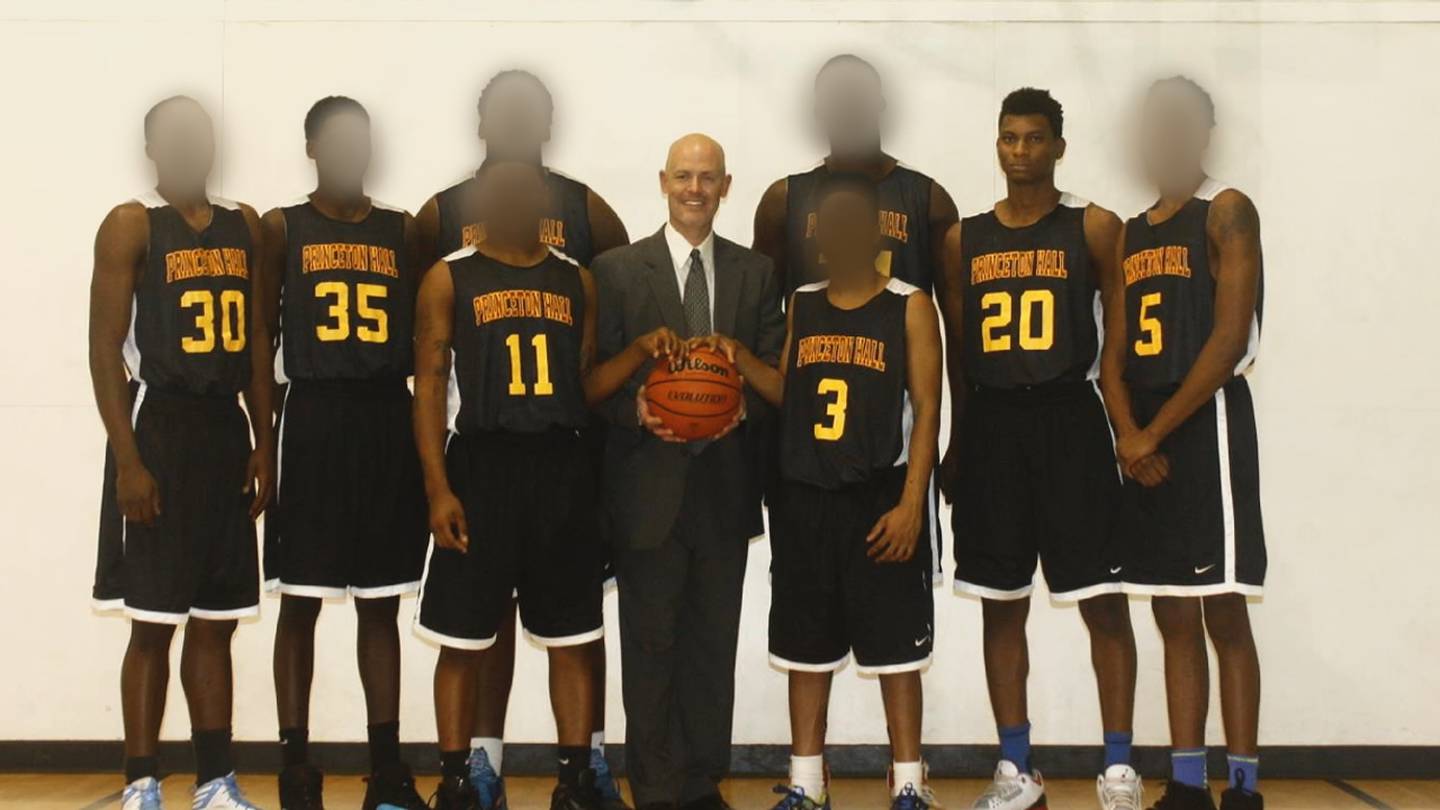 In a photo from the Charlotte team's Facebook page, you can see the man Durojaiye describes as his coach standing with about half of the 12 players on the team.
Durojaiye says they all lived with the coach in an apartment complex near Mount Holly.
"It was a struggle for space, it was a struggle for food," Durojaiye said.
Sometimes Durojaiye says he and his teammates would just eat once a day. Still, he says it was better than the conditions in Dallas where the coach told the players to go to a soup kitchen.
When Durojaiye was playing on the team in Charlotte, the teen says the coach would drive the players past a stretch of undeveloped land in south Charlotte and promise them that their school and gym would be built there.
[ [ALSO READ: Woman at center of foreign student-athlete scandal appears in court] ]
Durojaiye said, "I had lost all hope. I thought I was going to watch this play out until whatever happens happens."
After Durojaiye's visa expired, Erica Reilly, an immigration attorney helped him.
She says Durojaiye's coach made thousands off the players, using videos of their skill on the court to sell tickets to games and summer camps.
Reilly said, "The coach made money off ticket sales, off endorsement deals, off using videos of these players as promotional material for basketball camps that he was running that obviously cost money."
Reilly reported the case to Homeland Security so the coach would be investigated.
She didn't expect that Durojaiye would end up in handcuffs.
"We go to Columbia and Tobi gets detained. They say, you're out of status and so we have to put you into an immigration detention facility. The reason why no one is being brought to justice on this is because of the fear that you could be detained and deported simply because you are the victim and you're trying to report the crimes against you," she said.
A source within Homeland Security told Channel 9 the details of Durojaiye's case can't be discussed but the agent says that's generally not how cases are handled.
Durojaiye was told his coach vanished after he got out of the immigration detention center on a special visa for human trafficking victims.
His coach still has not been charged.
Eventually, Durojaiye found his home at MorningStar church in Fort Mill.
"For him to just be at this point today, at his age and when he came here to the U.S., it's incredible, it's a miracle," said former NBA player Al Wood.
Wood was a UNC basketball star who went on to play for the Atlanta Hawks. He is now working in ministry at MorningStar Church.
He met Durojaiye after one of the basketball coaches at the church saw Durojaiye during a game and realized something was wrong.
[ [ALSO READ: Efe Obada survives human trafficking, now a Carolina Panther] ]
Wood let Durojaiye live at the church while the teen earned his GED.
Now, Durojaiye is playing football on a scholarship at a community college in Kansas. He is already fielding interest from some well known, four-year public universities.
Despite all the hardship and heartache he endured, his future is as bright as the smile that still lights up his face.
Cox Media Group