CHARLOTTE, N.C. — Two people were hurt after a Ford Mustang slammed into an apartment late Sunday night in north Charlotte.
The crash happened just after 11 p.m. in the Century Highland Creek Apartments on Jessica Leigh Lane, right off Interstate 485 at Prosperity Ridge Road.
Channel 9 crews at the scene could see the back end of a red Mustang that had barreled through the wall of a first-floor unit, covered in glass and debris.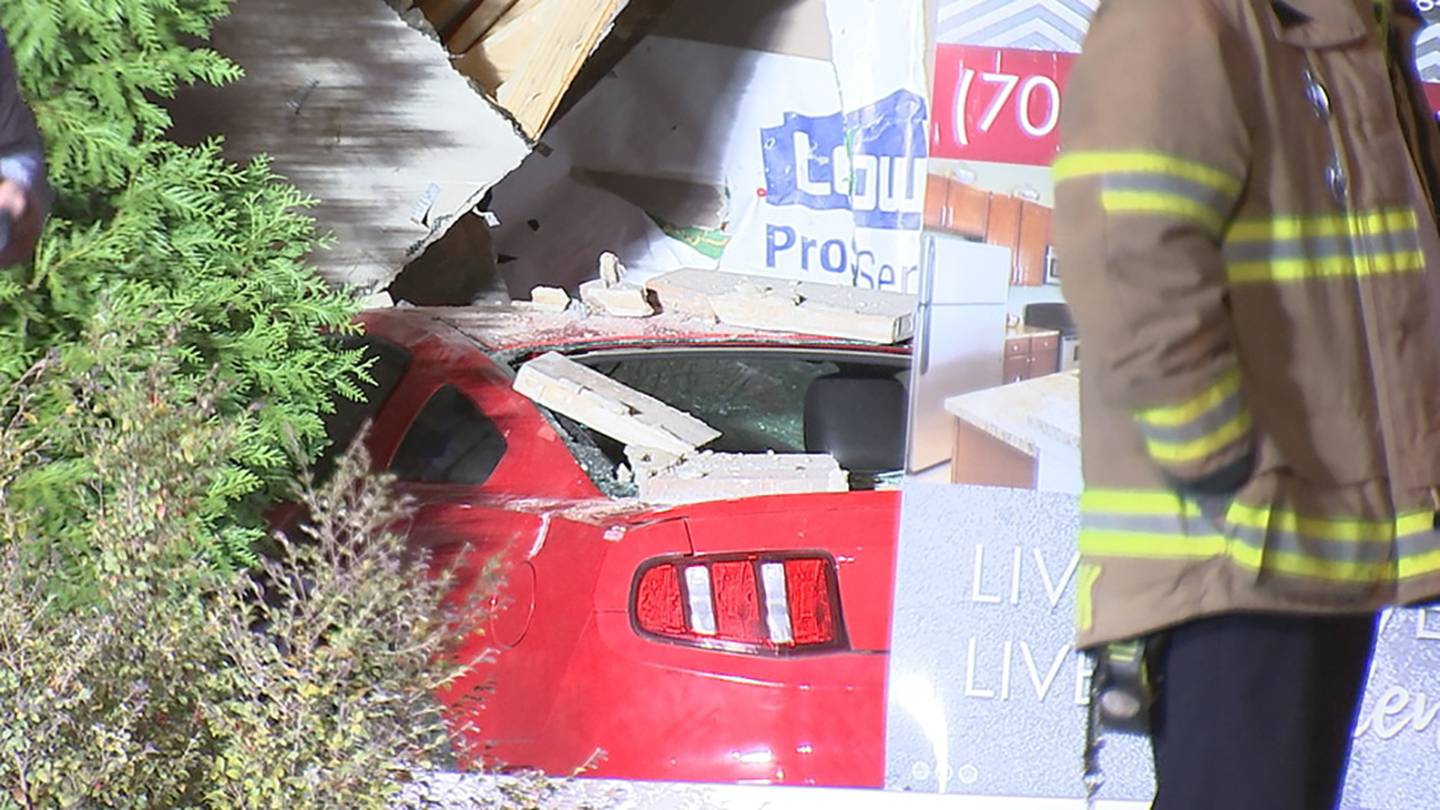 Nobody was inside the apartment at the time and paramedics told Eyewitness News they took two people in the car to the hospital.
Neighbors we spoke with walked us through the chaos that unfolded.
[ALSO READ: 11-year-old NC boy critically injured at trunk-or-treat event dies]
One witness said he saw the car speeding in the roundabout right before it smashed into the building, leaving a gaping hole.
"He was coming across the roundabout as I was turning," said James Kohlway. "He just flew right across and landed right in the building. I went to go help him, of course. I went to see if he was all right. He was conscious, so we called 911."
Wood beams were installed overnight to help support the building since the car took out a major support beam.
"It was around 11 o'clock and I hear tires squealing and boom," said Angel Matos, who lives in the complex. "And I'm like, 'Oh my God, what's going on?' I hear the cars blowing the horn all the time. People get into the roundabout at the wrong time or don't know how the roundabout works, and speed of course."
One witness, Nia Boyd, said a 911 dispatcher told her not to help, but she felt compelled to. She said the driver of the Mustang was trapped, but she was able to get to the passenger.
"He grabbed onto me saying 'I can't breathe, I can't breathe' so me and the older lady kept telling him to sit down," Boyd said. "I think it was the shock of it and the impact. He kept saying his chest was hurting. At first, I just gave him the water bottle and handed it to him, but he wasn't capable of holding, so I put it up to his mouth and started to give him the water."
Police have not said whether the driver will face charges.
Neighbors said a similar crash happened in 2018, which Channel 9 also covered.
In that case, a red Volkswagen Beetle crashed into the same apartment in April 2018. In both cases, the renters were not home.
The complex told Channel 9's Gina Esposito they are now concerned after two crashes. They said they have already reached out to the state and the city to see if they can get a barrier put up.
"This is not safe," Boyd said. "There's a roundabout there so that roundabout, it's just not safe."
>> Reporter Gina Esposito is asking if there are other issues along this stretch of road and will have a full report on Eyewitness News at 5.
Since 2015, there have been 9 crashes at Prosperity Ridge Road and Craven Thomas Road.
NCDOT said they are sending out engineers to see if changes need to be made, but in the meantime, they are asking drivers to follow the speed limit.
In July 2018, NCDOT said they built 46 roundabouts in the Charlotte area and 27 more were proposed. Highway safety shows that roundabouts help reduce overall crashes by 37 percent.
Check back with wsoctv.com for updates on this story.
Cox Media Group