MONROE, N.C - The bomb squad is investigating a suspicious package in a Monroe parking lot.
Officers were called Wednesday to the parking lot of an old Harris Teeter beside the Monroe Mall on Highway 74 at Dickerson Boulevard.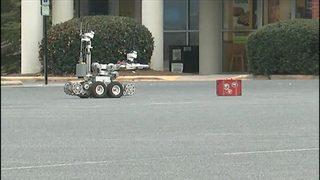 Viewers called Channel 9, concerned about the huge police presence in the parking lot.
[RELATED: Mooresville Walmart evacuated after reports of bomb threat]
The Cabarrus County Bomb Squad has brought out a robotic device in order to handle the suspicious package, which appears to be a red suitcase.
Read more top trending stories on wsoctv.com: