CHARLOTTE, N.C. — Charlotte-Mecklenburg Police Chief Kerr Putney has called a tweet from Charlotte City Councilwoman LaWana Mayfield which compared police officers to terrorists "offensive."
Speaking with reporters on Thursday, Putney called the situation "hard to stomach."
"When they go low, we go high," he said. "I might not be able to hold people accountable, but the community can."
Mayfield's tweet was posted in March but was getting more attention during National Police Week.
[READ MORE: City councilwoman won't resign after Facebook post questioning 9/11]
"Being black in America under number 45 has created homegrown terrorist wearing blue uniforms," the tweet read.
The tweet was posted after an officer-involved shooting in Sacramento. An officer shot and killed an unarmed black man while responding to a call about break-ins.
CMPD officers said the tweet from Mayfield was inappropriate, especially as they are asking the City Council for a pay raise and are trying to recruit more officers.
Mayfield has been criticized for social media posts in the past. Last month, she shared an article about a conspiracy theory and questioned the 9/11 terrorist attack.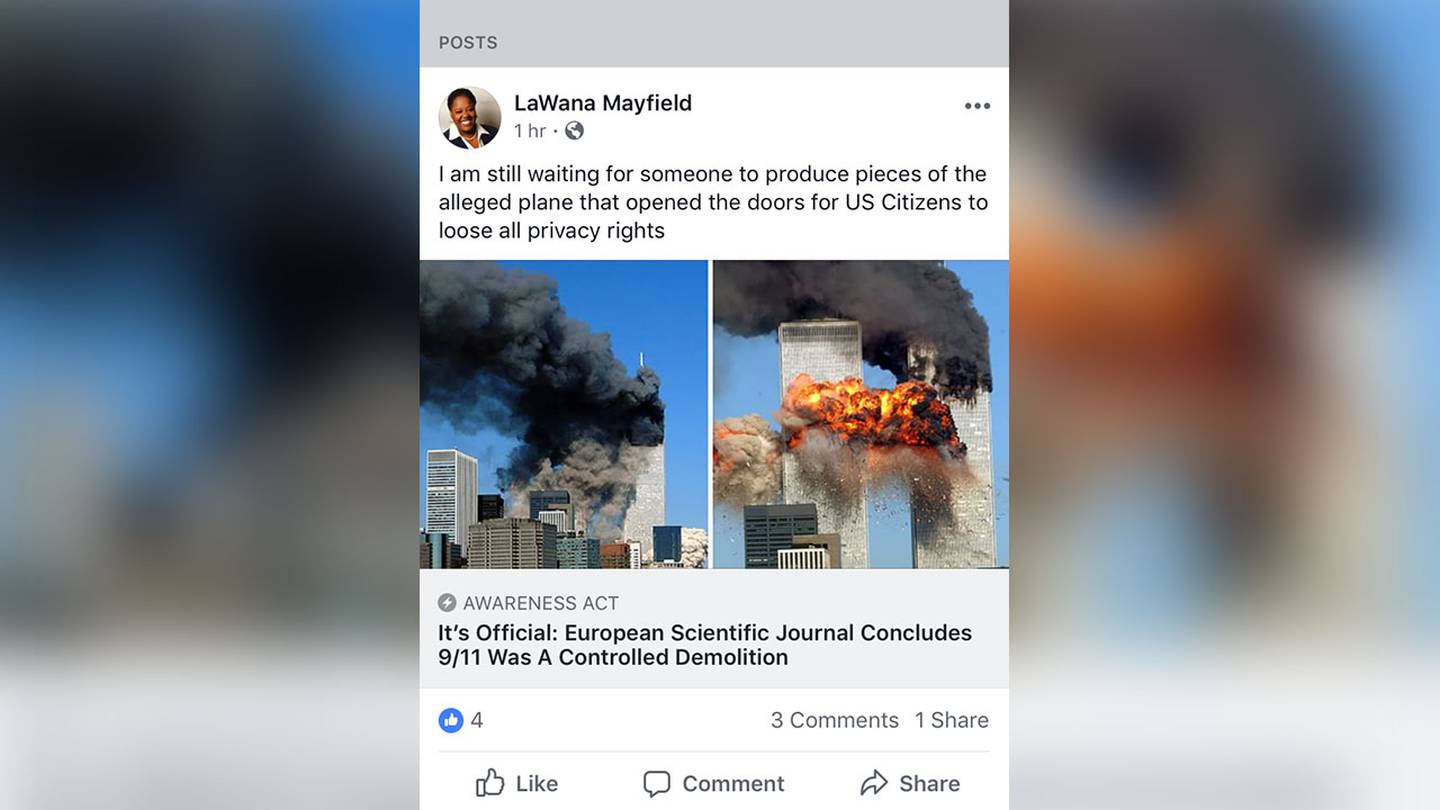 A petition called for her to resign but she said the post was taken out of context.
Channel 9 reached out to Mayfield for comment on the latest social media controversy but have yet to hear back.
On Thursday morning, she tweeted, "I have and continue to be one of the strongest supporters of law enforcement but I will NOT turn a blind eye to corruption, assaults, and the killings of unarmed black & brown people. If you are offended by my comments and not the situation YOU need to re-evaluate."
Some told Channel 9 that her remarks did not go too far.
"No, I don't think so. And I'm not saying that all police are homegrown terrorists," said Robert Dawkins with SAFE Coalition NC. "But her statement about the police and black people feeling terror from the police is a factual statement."
Councilmembers' reactions
"It is disheartening and disingenuine for you to see my pain at all of the injustice surrounding us as a divide. What racial bias, equity & bias, racial reconciliation training have you participated in? I hope you never have to feel the pain so many of us feel on a daily basis," Mayfield tweeted Thursday night.
"Honestly, there are people who share that view," Councilman Braxton Winston said at the Charlotte-Mecklenburg Community Relations Awards Thursday night. "How do we bridge that gap?"
He did not speak for Mayfield but he said he was also touched by the police shooting in Sacramento.
"It was a very painful time when I saw that," Winston said. "It disgusts me (about) that event in Sacramento -- whether people will trust her (Mayfield) or not -- that will be up to the people."
Councilman Tariq Bokhari recorded a Facebook Live prior to attending the event to express his feelings, and he said police officers deserve more.
"They deserve better than that and they protect us on a daily basis," Bokhari said. "We need to support them. We need to lift them up."
(Councilman Tariq Bokhari's response)
In response to Mayfield's tweet, the president of Charlotte-Mecklenburg Fraternal Order of Police Lodge 9 released the following:
Councilwoman Mayfield,
I'm sure you have anticipated a response from the Charlotte-Mecklenburg Fraternal Order of Police Lodge #9 regarding your comments made on March 26th, 2018 stating "Being Black in America under #45 has created homegrown terrorist wearing blue uniforms. #AReckoningIsComing."
I would like to know your intention for distributing that message through social media. What exactly did you intend to gain from such a ridiculous statement? Please, educate me!
Being the President of Charlotte Mecklenburg FOP Lodge #9 and a Charlotte-Mecklenburg Police Officer for almost twenty-four years I understand that I am held to a higher standard than other citizens. My actions AND words are critically analyzed every single minute of my day. You need to be held to just as high of a standard as I am. You were elected as a City of Charlotte leader.
FOP Lodge #9 has been working tirelessly over the past several months to work with Charlotte City Council to improve the compensation and benefits of Charlotte-Mecklenburg Police Officers. With the release of this statement by you, it takes away from the focus that we have worked on so hard to bring forward.
To make this incident even more unbearable, I heard about this yesterday while traveling back from Washington, D.C. after participating in the National Peace Officer's Memorial Service. During a time when we focus on Peace Officers who gave their lives for the citizens, community, and Country I am forced to respond to this statement.
Are you seriously labeling all Peace Officers as terrorists? If so, you are also classifying all those Peace Officers, their parents, spouses, children, and relatives as terrorists. To say the least, you have upset the entire law enforcement community on this ridiculous statement. We are a family and when offended, we are all offended.
I would love to discuss this with you further and invite you to one of our membership meetings. We hold meetings on the first Tuesday of each month with the next one being Tuesday June 5th, 2018 at 6:00 pm.
Thank you,
Mark Michalec
President
Charlotte-Mecklenburg FOP Lodge 9
Read more top trending stories on wsoctv.com:
Cox Media Group