CHARLOTTE, N.C. — The Carolina Panthers announced Wednesday morning that a definitive agreement has been signed to sell the team to David Tepper, the founder and president of global hedge fund Appaloosa Management, L.P. and a well-known philanthropist.
"Bringing the Panthers and the NFL to the Carolinas in 1993 was enormously fulfilling for Rosalind and me and all of our partners," founder Jerry Richardson, said in a release. "We are deeply grateful for the outpouring of support over the last 25 years. You have taken the Panthers into your hearts and made them part of this warm and supportive community. We want to thank all of our past and present players, coaches and staff for their hard work in making the Panthers a great success both on the field and in the community. The personal relationships we have enjoyed have been very meaningful to us.
"I look forward to turning the stewardship of the Panthers over to David Tepper. I have enjoyed getting to know him in this process and am confident that he will provide the organization with great leadership in both its football and community initiatives. I wish David and his family the very best as they enter this exciting new phase of their lives."
"It's bittersweet knowing that I've been working under the leadership of Mr. Richardson going on 14 years now -- to see him sell the football team," Panthers linebacker Thomas Davis said Wednesday.
[SPECIAL SECTION: Panthers for sale]
Charlotte Mayor Vi Lyles welcomed Tepper to the Queen City.
"We're really excited that a new owner has been identified," Mayor Lyles told Channel 9.
"He's very excited. He's very committed to keeping the team here. He loves the city. He's visited several times," said City Councilmember James Mitchell.
Tepper, a minority owner of the Pittsburgh Steelers since 2009, said in the release, "I am thrilled to have been selected to be the next owner of the Carolina Panthers. I have learned a great deal about the community and the team over the past several months and look forward to becoming part of the Carolinas. I want to thank Jerry Richardson and the other Panthers partners for all they have done to establish and develop the NFL in the Carolinas. It has been a remarkable 25-year journey and I promise to build upon the Panthers' success on the field and in the community."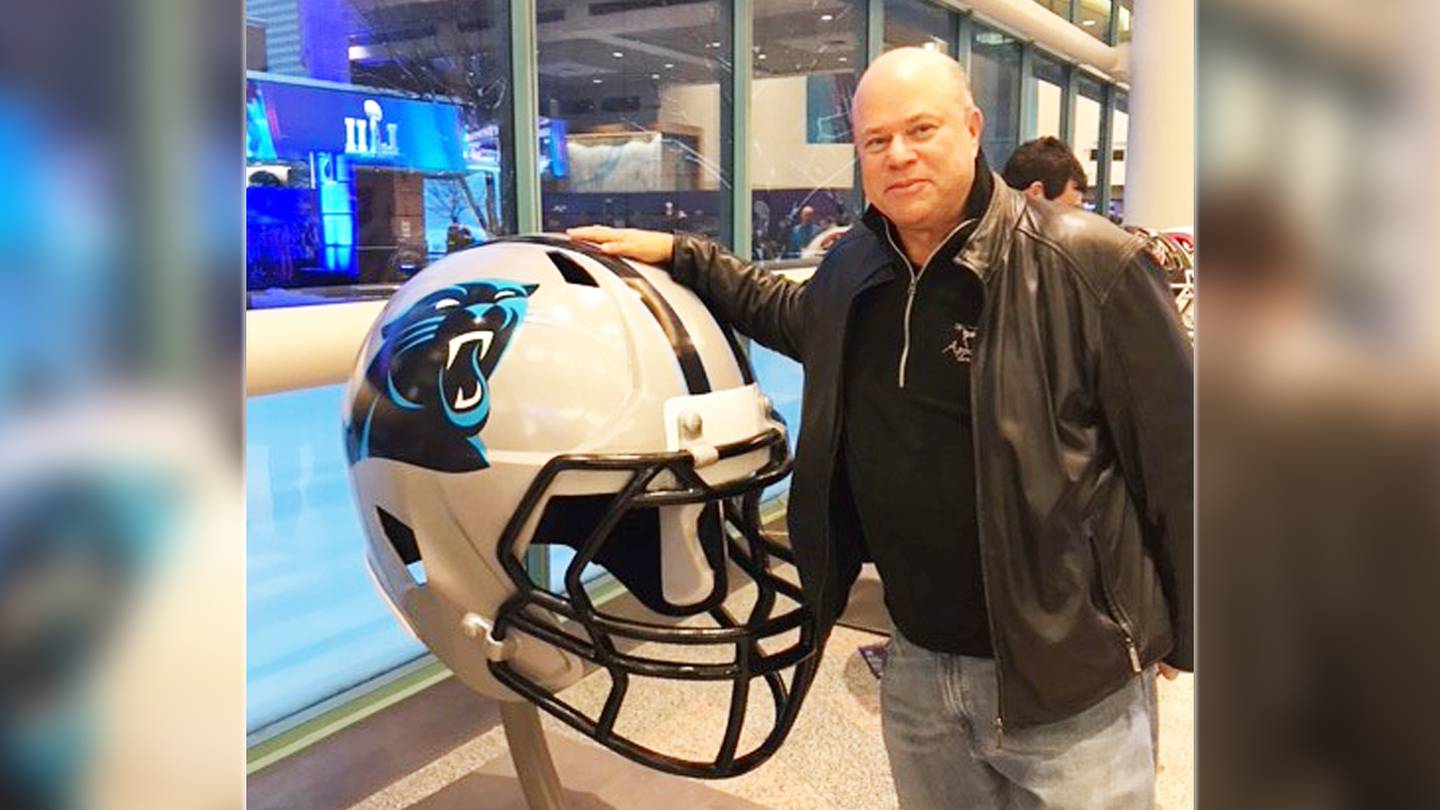 The Tepper deal would be expected to be approved at the owners meetings in Atlanta on May 22. The purchase needs to get approval from the NFL financial committee and then three-fourths approval from the 32 owners.
The transaction is expected to close in July 2018.
WHO IS DAVID TEPPER?
Tepper was born and raised in Pittsburgh, Pennsylvania. A business profile says he has a photographic memory and a mind for math.
He earned degrees from the University of Pittsburgh and Carnegie Mellon University, and then worked for Goldman Sachs. He made his fortune through his hedge fund Appaloosa Management, and famously bet big on a recovery after the markets crashed in 2009. His current net worth is an estimated $11 billion.
Tepper is also well known for his philanthropy. He donated $3 million over the year to help with hurricane relief in Puerto Rico and Texas.
When Hurricane Sandy devastated the New Jersey coast in 2012, Tepper gave out 12,000 $100 gift cards to people in need in 20 different communities.
"This is a guy who has made a lot of money but has also given money back here in Pittsburgh and elsewhere. Philanthropy is a big part of what he does," said WPXI Sports Director Alby Oxenreiter.
"I feel that a few folks are knocking on his door right now," said Sean Garret, director of the United Way of the Central Carolinas.
Garrett hopes that Tepper's track record of charity work in Pittsburgh and New Jersey suggests he will do the same Charlotte.
"He's made gifts to schools," Garrett said. "A lot of things that are important to our community here in Charlotte and everything we're hearing is that he wants to be engaged here in Charlotte."
Local public relations consultant Adam Bernstein said Tepper should invest into the community.
"He's not a local player yet, but that would be a great way to send that signal that that's what he intends to be and that Charlotte is important to him," Bernstein said.
Numerous reports say Tepper comes across as a very normal person who just happens to be a billionaire.
RELATED STORIES:
"The people that know him here in Pittsburgh will say he has a lot of money now, but he's an incredibly down-to-earth guy," said Oxenreiter.
While Tepper is committed to keeping the team in Charlotte, what we don't know for sure are his plans for Bank of America Stadium. Sports business expert Daniel Kaplan said it's common practice for a new owner to at least ask for some taxpayer money.
"It's always going to be an issue with a very wealthy owner when he or she asks for public funding because this always comes up, he or she has so much money why are they wanting taxpayer dollars," he said.
TAX WINDFALL FOR NC
Current owner Jerry Richardson, 81, announced in December plans to put the team up for sale amid an NFL investigation into allegations of sexual and racial workplace misconduct.
He stepped down from the day-to-day operations of the organization after a Sports Illustrated article detailed the allegations. Tina Becker was named the chief operating officer.
Richardson's group formed the Panthers for $220 million in the '90s. With the sale price of $2.2 billion, that's a $2 billion profit of which he'll owe the tax collector 25-30 percent. That means he could owe more than $450 million in taxes.
The feds would get the vast majority of it - about $360 million. North Carolina would collect about $90 million.
The record for the sale of a professional sports franchise in the United States is the Houston Rockets, who were sold for $2.2 billion in 2017.
The Buffalo Bills, which sold for $1.4 billion in 2014, hold the current record for an NFL team.
Read more top trending stories on wsoctv.com:
Cox Media Group