CHARLOTTE, N.C. — A long-time restaurant employee was killed and two other people were seriously hurt after gunfire erupted at a crowded south Charlotte Steak 'n Shake Tuesday.
[PHOTOS: 1 dead, 2 seriously hurt in shooting at Charlotte Steak 'n Shake]
Officials said they responded around 11:30 a.m. to an armed robbery at the restaurant on South Boulevard, near Westinghouse Boulevard.
Police said an employee at the Steak 'n Shake was shot and killed by a robbery suspect.
Family members told Channel 9 the man who was killed was Darnell Harris. Police confirmed the victim's identity Wednesday morning. He was a cook at the restaurant.
(Darnell Harris)
A witness said Harris, 48, intervened during the robbery, which led to the fatal shooting.
Channel 9 learned one of the two people taken to the hospital was the robbery suspect, identified as Eddie Doh, and that the other person wounded was a customer, 53-year-old Robert Carpenter Jr.
Police said Carpenter was also shot by Doh.
>> Download the WSOCTV news app for your smartphone and get updates on breaking stories as they come in.
"When I pulled up, one of the workers that works in the place, he was out here," witness Brenda Elder said.
She said he had run away from the restaurant.
"He said a guy came in with a gun and a mask, so he knew it was going to be bad," Elder said.
Investigators said officers from the Pineville Police Department arrived on scene first after receiving several 911 calls about an armed robbery at the restaurant.
"There's shots fired at the Steak 'n Shake over on South Boulevard," one 911 caller told dispatchers.
(WATCH BELOW: Witness describes scene outside Steak 'n Shake)
Police confronted the suspect inside the restaurant and the situation spilled outside. At least one Pineville officer felt threatened and shot the suspect, according to the Charlotte-Mecklenburg Police Department.
"The officers encountered the suspect, engaged him and there were shots fired," CMPD Chief Kerr Putney told reporters.
Channel 9 spoke with several witnesses, including a mother who said she and her 8-month-old were walking out of the restaurant when the robber came in.
Megan Walker said she looked inside, worried for her child's father who was still in the restaurant. She said she then saw the suspect walk right up to an employee and shoot him and then he started shooting everywhere.
Her child's father managed to get outside, and they ran for safety.
"We were jumping in our car and he was following, shooting behind us," Walker said.
Suspect's criminal background
Police identified the suspect as 30-year-old Eddie Doh, who has a long criminal history, including assault, fraud and attempted robbery.
Doh had spent more than nine years in prison for being an accessory to the murder of 17-year-old Aerieal Patterson on Arbroath Court in 2011. A gun believed to be Doh's was found at that scene.
"I just felt in my heart that something was going to happen to her," Aerieal's mother, Vontisue Patterson, said in 2011.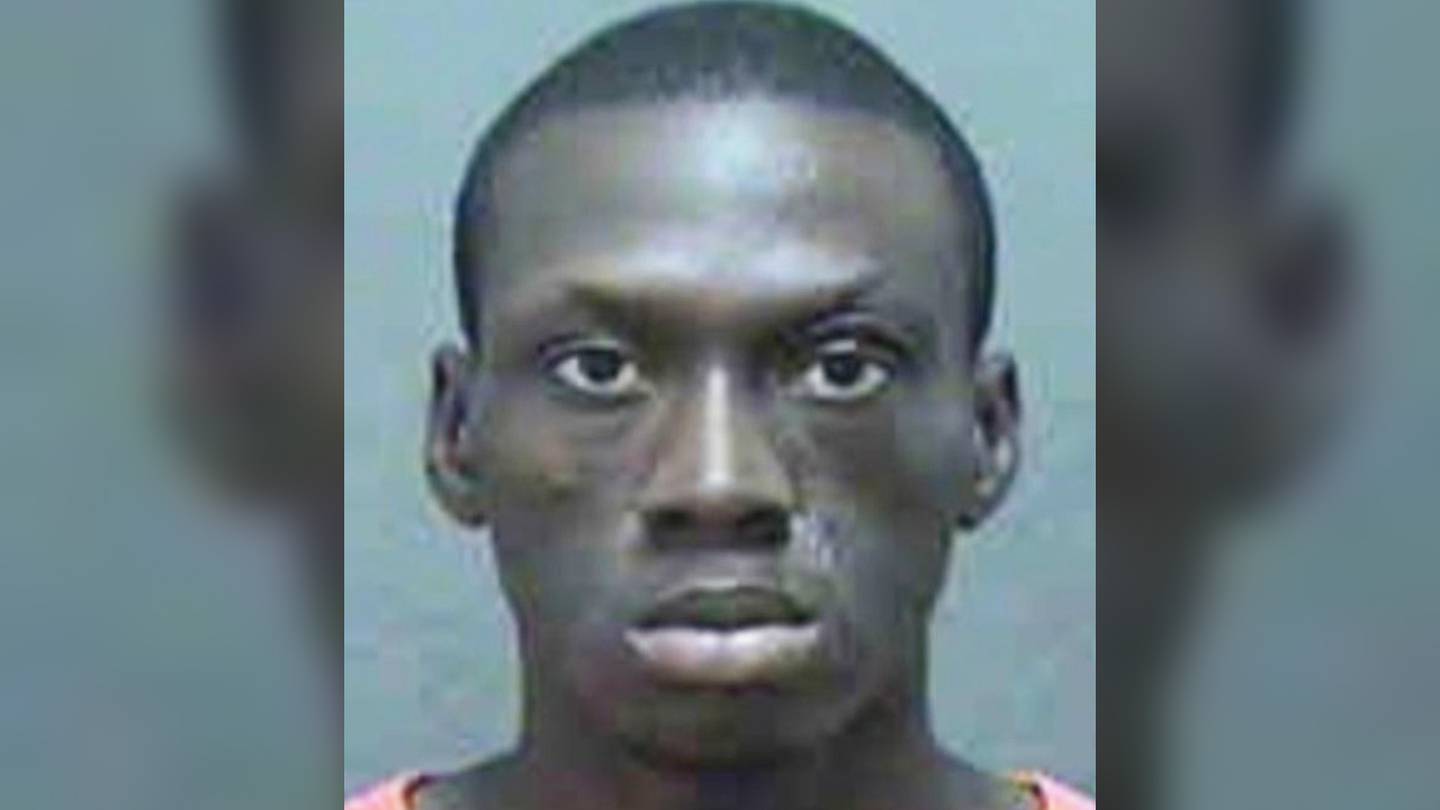 (Eddie Doh - previous arrest mug shot)
Doh was charged with first-degree murder, but a plea bargain was made in 2013.
He was convicted of accessory after the fact of first-degree murder and was sentenced to 87 to 114 months in prison, minus credit for time served.
He was just released from Albemarle Correctional Institution on Jan. 14 and was placed on probation.
CMPD said Doh remains in the hospital and will be charged with murder, attempted murder, assault with a deadly weapon with intent to kill, robbery with a dangerous weapon, attempted robbery with a dangerous weapon, possession of a firearm by a felon and possession of a stolen firearm.
(WATCH BELOW: CMPD Chief updates reporters on Steak 'n Shake shooting)
Family, friends, mourn victim's death
Channel 9's Elsa Gillis said she saw people hugging and praying outside the restaurant immediately after the shooting.
"One of the coworkers, they said he got shot and killed, so my prayers go out to the family and friends," Elder said. "I'm sorry. This is terrible."
Police have not released a lot of information about Harris, but it's clear he was loved. Gwen Golden, who is one of Harris' coworkers, was devastated and spoke to Channel 9 with tears in her eyes.
"We lost somebody here today (in) our Steak 'n Shake family, and it is very sad, and I am very hurt," Golden said.
She said she worked with Harris for many years.
"It's more than just someone you work with. I've been working with this person for more than eight years. This is family. It's hurtful. It hit too close to home. My kids have grown up knowing Steak 'n Shake and everybody in it," Golden said.
A heroic act
Some people inside the restaurant said Harris was trying to protect others from the gunman. One man described Harris' actions during the robbery as heroic.
"My wife, she's the restaurant manager, and she called me, started crying -- started screaming," Chris Brown said. "She said someone came in and tried to rob them and one employee came and stepped in, and I guess the guy pulled out his gun and shot him."
>> Reading this story in our app? The new "Follow the Lead" feature allows you to tap the blue tag indicated with a '+' to subscribe to alerts on the very latest breaking news updates.
Witness Tracey Duvall watched as family members grieved in the aftermath of the shooting.
"My heart goes out to the families," Duvall said. "It really does."
Duvall was at the Circle K next to the Steak 'n Shake. He was leaving when strangers ran toward the convenience store, escaping the scene that was unfolding at the restaurant.
"They were crying, and they were nervous. I got nervous," Duvall said. "They were talking about somebody trying to rob a store. The man had a ski mask on and glasses."
He said he heard two gunshots before police arrived.
"Once you see the officers in your area, it's kind of comforting that things are going to be under control and, man, it wasn't," Duvall said. "(It) wasn't maybe a minute later after they had got (themselves) situated over here, I heard about seven shots – seven or eight shots."
He said everyone ran for cover.
"God bless their families, man, and everybody," Duvall said.
Investigators on scene
Chopper 9 Skyzoom flew over the scene and could see dozens of officers from both CMPD and the Pineville PD inside and outside the Steak 'n Shake.
The restaurant and parking lot were roped off with crime scene tape and emergency vehicles lined the area.
(WATCH BELOW: Chopper 9 flies over scene of Steak 'n Shake shooting)
Numerous evidence markers littered the ground in the parking lot.
"Our hearts go out to the family of our associate who was killed in this senseless act of violence," a Steak 'n Shake spokesperson said in a statement.
Pineville police identified the two officers who responded to the scene and were involved in the shooting as Donald Ingram and Travis Naito.
Officials said they were both wearing body cameras, and the cameras were turned on. Ingram and Naito are on leave with pay, which is standard procedure.
Pineville police said Ingram has 12 years of law enforcement experience. They said Naito has 13 months of law enforcement experience, four years of security experience, and is a former United States Marine.
Pineville PD said it's outsourcing an internal investigation to a Charlotte company called U.S. ISS Agency, LLC.
Putney said CMPD will be handling the criminal investigation at the restaurant.
Detectives were looking to see whether any surveillance video from inside and outside the Steak 'n Shake could help with their investigation.
Cox Media Group