CHARLOTTE, N.C. — A dirt bike rider is dead and another rider has been charged after a dangerous series of events Sunday evening in west Charlotte.
Police said they received numerous calls and complaints throughout the day reporting several dirt bikes and all-terrain vehicles driving recklessly on the streets of Charlotte.
[Police: Multiple people arrested for 'driving erratically' on ATVs, dirt]
Around 8 p.m., a woman told Charlotte-Mecklenburg police that a group of ATV and dirt bike riders surrounded her car outside a Bojangles restaurant on West Boulevard before ramming her vehicle.
Police said a driver who was with the riders got out of a car and assaulted the woman before the group sped off. That driver, Chavis Doby, has been arrested.
(Doby)
Detectives charged Doby, 35, with assault on a female. He was arrested Monday without incident.
Minutes after the assault, a CMPD officer on a dual-sport bike (a motorcycle designed for both on and off-road use) spotted the group of riders on West Boulevard near Interstate 77 and tried to initiate a traffic stop.
That's when one of the dirt bikes ran off the right side of the road, hit a curb and then struck a concrete pillar.
33-year-old Michael Adams, who was an avid rider, was taken to the hospital where he was pronounced dead. Officers said he was not wearing a Department of Transportation approved helmet.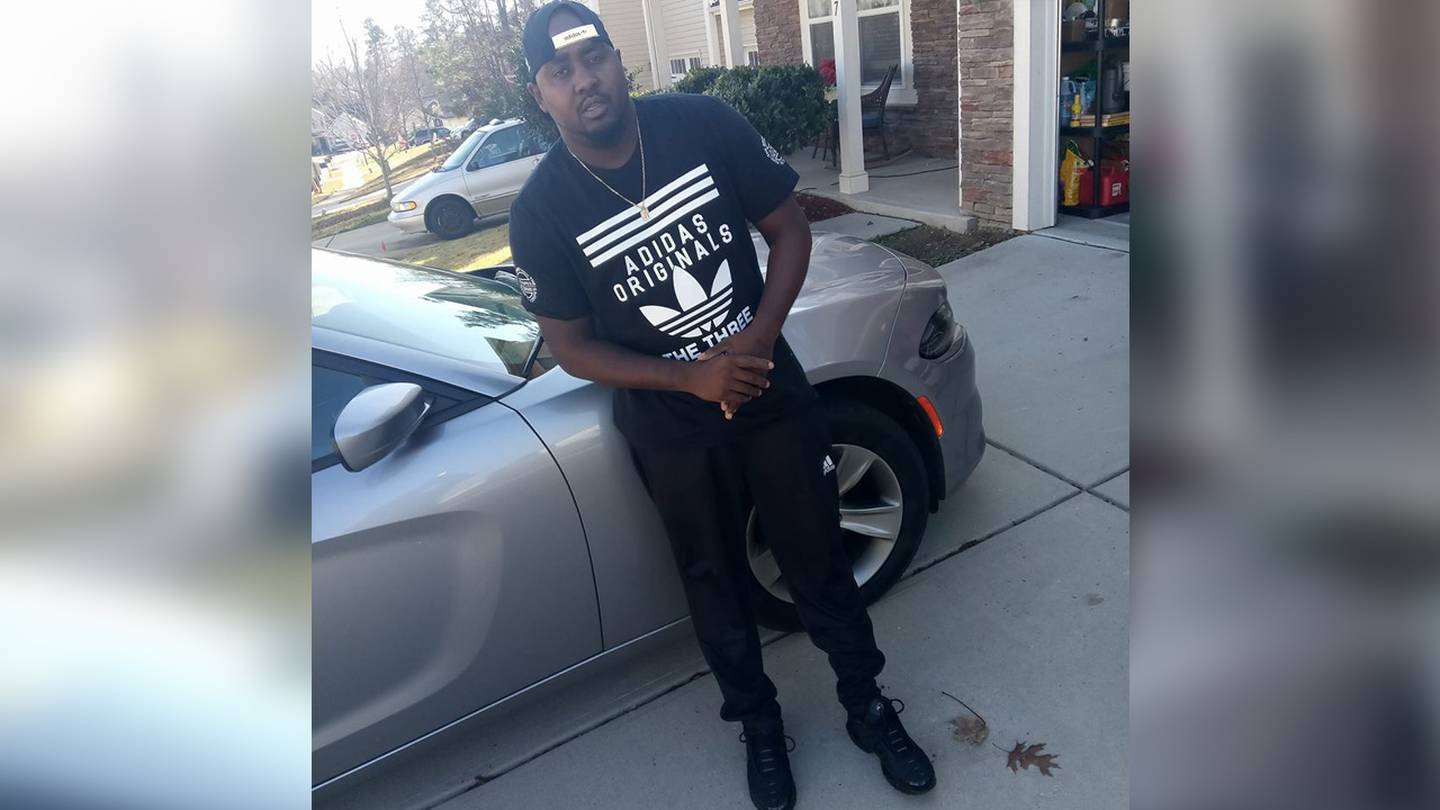 (Adams)
Channel 9's Tina Terry spoke exclusively with Adam's father, Manning Sweat, who said he wants to view the body camera video from the crash to discover what really happened.
"Was it worth them chasing him? And to see the footage, that's the key to me. The footage is gonna tell it all," he said.
Sweat said he is focusing on remembering his son's life and planned to hold a candlelight vigil Monday night.
"I didn't agree with all the rules and regulations -- how they ride -- but it was something he loved doing," Sweat said.
All the other riders sped away from the scene and were not caught.
According to CMPD, speed does not appear to be a factor in the crash. Police said there was no evidence that the CMPD officer's bike made any contact with any dirt bikes or ATVs.
Internal Affairs is reviewing the crash and is looking at how the officer handled the situation.
The crash remains under investigation and any witnesses or anyone with information, including video, about the incident is asked to call Crime Stoppers at 704-334-1600.
Channel 9 has reported about the major efforts police have taken to make sure dirt bike riders stay safe on roads.
It is a problem we first started investigating in 2017.
Neighbors have caught riders on dirt bikes and ATVs running red lights, popping wheelies and standing up. Police said they are using new tactics, including their helicopter, to track these riders.
Community activists are trying to meet with young riders and recently invited them to participate in an anti-violence charity ride this month.
This is an ongoing investigation. Check back with wsoctv.com for more information. 
Cox Media Group