CHARLOTTE, N.C. — A new playground is giving students at a Title 1 school in west Charlotte a new reason to be proud.
Hundreds of volunteers from across the city rallied together on Friday to help build the new playground in the rain.
Students were allowed to design the playground themselves.
They chose everything from the equipment to the colors, and their excitement was clearly showing when buses started pulling in at the start of school.
Students opened windows to shout "Thank you!" to the volunteers.
Fifth-grader Kamorion Weeks told Channel 9, "When I heard it first on the announcement I was screaming and happy."
Weeks said he was about to lose his mind over the new playground because it's replacing an old, worn down one.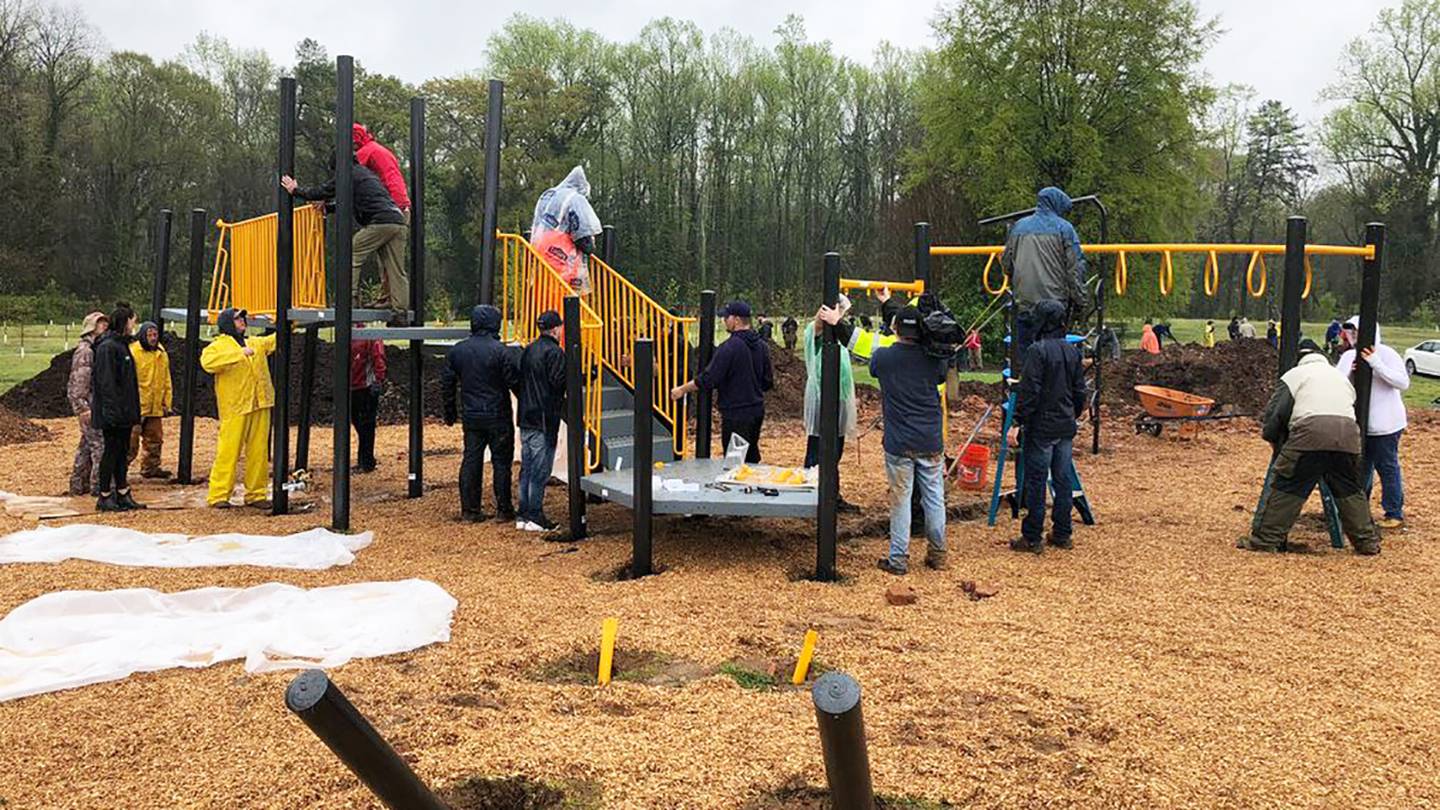 "There had been wear and tear with the weather. There were pieces they couldn't use, we had kids getting hurt because this was chipped or that was chipped," explained school principal Stephanie Range.
She was so shocked when she learned the community was going to build a new playground, she couldn't believe it.
"The first thing I did was [ask], are you sure it's Barringer and not Garringer? Barringer on Walton Drive?" she recalled, laughing.
[ [ALSO READ: Tree house being built at Zahra Baker playground] ]
Every year a group of Charlotte companies raises money and volunteers to build a school playground.
This year CMS sent the volunteers to Barringer Elementary in west Charlotte after taking a look at the condition of the old playground and the lack of economic opportunities of the community.
With more than $75,000 in donations, more than 200 volunteers are putting the new playground together.
It will be the first time students with disabilities will be able to access a playground at the school.
[ [ALSO READ: Panthers announce opening of Play 60 KidZone playground at Freedom Park] ]
Range said, "More than anything else, it's just the feeling that they know the entire community has done this for them and it gives them a chance to be proud and be confident and just really know that the entire Charlotte community is behind them and wants them to succeed."
With a smile, Weeks said. "I would say thank you for helping us because it's really like a great day to me."
The hardest part will be keeping the students like Weeks off the new playground for a week because it does need time to settle before students can enjoy it.
On Friday, volunteers are also completing a dozen other projects around the school from painting murals to creating a sensory trail to the playground.
The following companies are all listed as sponsors for the project: Duke Energy, Red Ventures, Wells Fargo, Atrium Health, the Charlotte Regional Visitors Authority, Center City Partners, Foundation for the Carolinas, Novant Health, SalesForce, CSI, First National Bank, JE Dunn Construction, MapAnything, K&L Gates, Middleton Meyers and Stratifyd.
Cox Media Group