MINNEAPOLIS — Nick Foles did his best Tom Brady impersonation, leading a late-game comeback to cap a season that began as a backup and ended as Super Bowl MVP.
[IMAGES: Super Bowl 52: Philadelphia vs. New England]
Foles' journey mirrored Brady's 16 years ago and ended late Sunday night, with green-and-white confetti falling as delirious Philadelphia Eagles fans celebrated their first NFL title since 1960.
No quarterback has gone from backup to title game MVP in one season since Brady replaced Drew Bledsoe in the 2001 season. Foles topped the 40-year-old Brady, football's greatest winner, in the most prolific offensive game in NFL history, with the Eagles defeating the favored New England Patriots 41-33.
Foles finished it off by engineering the type of game-winning drive that made Brady famous, and he watched his defense stopped Brady to seal the victory and the Eagles first Super Bowl - their earlier titles came before the Super Bowl era.
"The stage was never too big for him all year," said Zach Ertz, who caught the game-winning 11-yard touchdown pass from Foles with 2:21 remaining. "To get in a shootout with that guy on the other team is probably not ideal for anyone ever. The guy is the best quarterback to ever play the game."
But on this night Brady played second fiddle to Foles despite throwing for a playoff record 505 yards. Foles was nearly as prolific with 373 yards and three touchdown passes and also caught a TD pass for the Eagles (16-3). Brady dropped his own chance at a reception on a trick play by the Patriots (15-4).
That all added up to Foles becoming the first backup quarterback to win the Super Bowl since Brady beat two-time NFL MVP Kurt Warner to win his first title 16 years ago.
Brady never gave up the job he got after Bledsoe got hurt early that season. He has gone on to win a record five Super Bowl titles. After throwing his third touchdown pass, to Rob Gronkowski, with 9:22 to play to give the Patriots their first lead of the game, he seemed poised for a sixth.
That's when Foles stepped up with the drive of his life to give Philadelphia its first Super Bowl title in a season many wrote off after Carson Wentz injured his knee in Week 14.
Foles drove the Eagles 75 yards, converting a fourth-and-1 with a 2-yard pass to Ertz near midfield and then capping it with the pass to Ertz that needed to survive a replay review to make sure Ertz held onto the ball long enough for a score.
"It doesn't get any bigger than this, but I felt good," Foles said. "I felt calm. I think the big thing that helped me was knowing that I didn't have to be Superman. I have amazing teammates."
One of those teammates delivered the key defensive play on a night when the offenses combined for 1,151 yards - the most in any modern NFL game. With Brady poised to lead one of his memorable comebacks, Brandon Graham knocked the ball out of his hand for a fumble that rookie Derek Barnett recovered with 2:09 to play.
"When the fourth quarter came we had to go out there and make a stop," Graham said. "As a defense we hadn't been doing it all game. The offense carried us all the way through. At the end of the day we kept coming."
Jake Elliott tacked on a field goal and the game ended when Brady's desperation heave to the end zone fell to the turf, sending the Eagles out on the field in celebration and Brady to the ground in despair.
"I don't think anyone wallows on our team," Brady said. "We're a competitive team. Played hard. Didn't make enough plays or score enough points."
The questions after the game immediately turned to the future with Foles expected to return to the backup role when Wentz is healthy. In the other locker room, Brady was asked if he would come back for another run at age 41.
"I expect to be back," he said. "It's 15 minutes after the game ended, so I would like to process this. I don't see why I wouldn't be back."
Brady did just about all he could to win the game, with his most glaring miss coming as a receiver on a trick play in the first half when he dropped a pass from receiver Danny Amendola.
Foles topped him in that role with his touchdown late in the first half that made him the first player to catch and throw a TD pass in the same Super Bowl.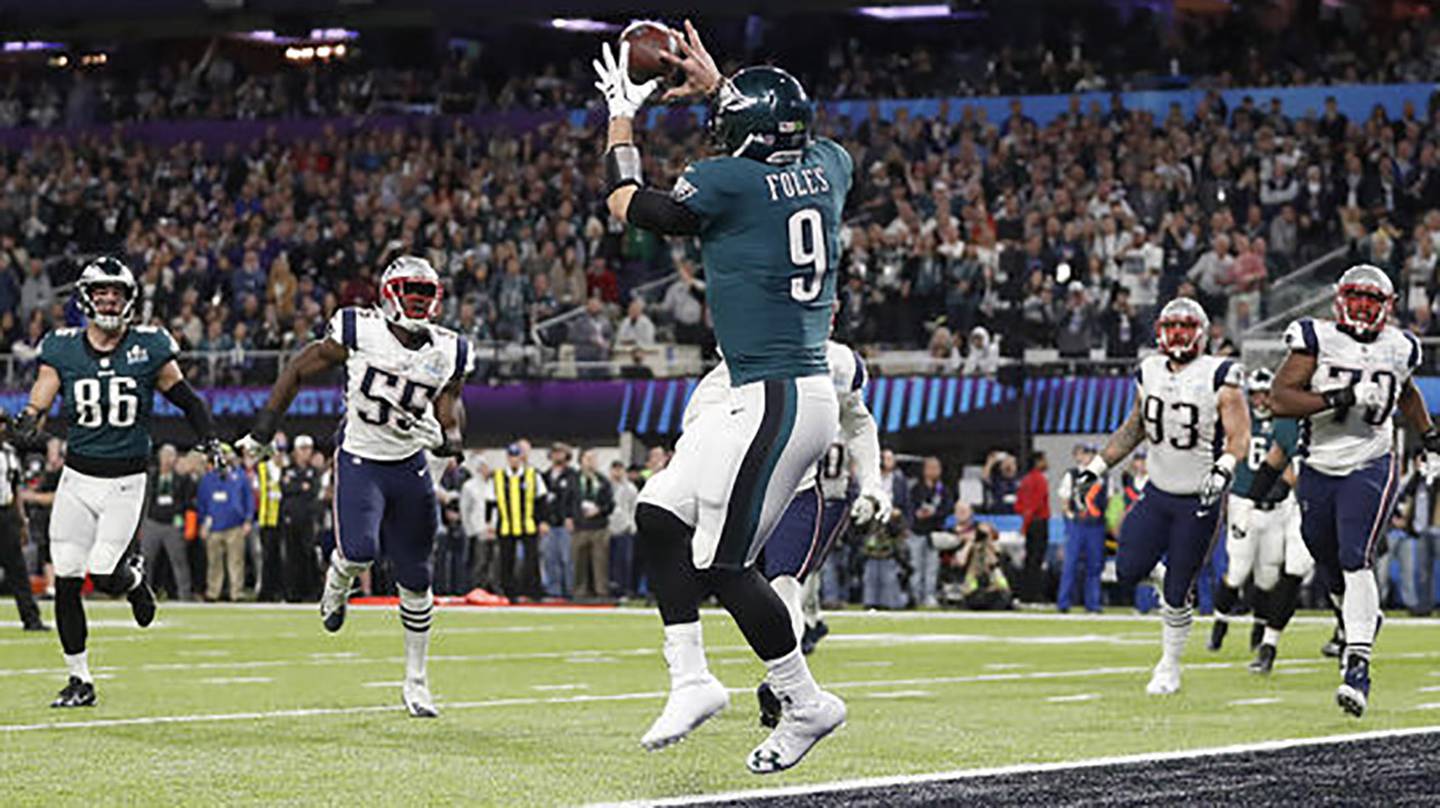 On fourth down from the 1, Foles motioned into the slot, while rookie Corey Clement took a direct snap. Clement pitched to tight end Trey Burton, a former quarterback at Florida. Foles slid into the right side of the end zone, uncovered and caught the touchdown on a play coach Doug Pederson calls "Philly Special."
"Yeah, that was something we've been working on, and Doug and I were talking, and he was like, 'Let's just run it.' It was a good time," Foles said. "And the end was a little wider than I thought, so I was like, 'I really need to sell like I'm not doing anything.'
"And it worked, Trey made an amazing throw. I just looked it in and, yeah, we've repped it for a while, so I was excited to get it run in the Super Bowl."
That gave the Eagles a 22-12 halftime lead but Brady led three straight second-half touchdown drives - two to Gronkowski. Foles kept pace with a 22-yard touchdown pass to Clement and another drive for a field goal that kept the Eagles in it until the dramatic finish.
"It kind of felt like whoever had the ball last could win this game, and we were just fortunate enough to put ourselves in a position to end the game with that drive for the touchdown," coach Doug Pederson said. "Our defense stepped up and did a nice job to finish it for us."
All that was left was the celebration and yet another rendition of "Fly Eagles Fly."
Philadelphians take to the streets to celebrate Super Bowl
The rain and hail that pelted Philadelphia for much of the day dissipated just as people across the city spilled out of sports bars, apartments and houses.
They all had one destination: Broad Street.
It was time for a celebration 58 years in the making.
On Sunday night, just as Nick Foles led the Philadelphia Eagles to a surprise Super Bowl victory over the New England Patriots in Minneapolis, the scene more than 1,000 miles away in Philly was jubilation and pandemonium.
Fireworks were set off. Car horns blared. And Philadelphians young and old descended on Broad Street, the iconic thoroughfare that will soon host a parade to commemorate the city's first major pro sports championship since the Phillies won the 2008 World Series.
"The city deserved it," said 66-year-old Lou Potel, who threw a party at his home just off Broad before joining a much bigger party outside. "It's a great city, and now we have a Super Bowl to go along with it."
Like so many other fans, Potel's love for the Eagles has been passed down from generation to generation. He went to the Super Bowl with his son the last time the Eagles played in the title game in 2004, and said that watching Sunday's championship with his son "made up for it."
Dustin Seidman, 42, and his wife Staci, 41, decided to bring their 10-year-old son and 8-year-old daughter to the festivities on Broad Street, even as drunken fans sprayed beer and climbed trash trucks, street poles and awnings. Social media video showed the awning outside the Ritz-Carlton Hotel collapsing with more than a dozen people on it, but it was unclear if there were any injuries.
There were many other young kids on Broad Street, with parents weaving strollers between people and cars and some even holding infants in carriers. One youngster rode a scooter while wearing an Eagles helmet.
"We wouldn't miss this," Dustin Seidman said. "It's a once-in-a-lifetime experience."
As his son then asked to keep walking north to City Hall, he added: "Does life get any better than this?"
For Staci Seidman, the thought of her late grandfather, a die-hard Eagles fan, immediately crossed her mind when the game ended. She wasn't alone.
Rick Campitelli, 63, who came into the city to watch the game with his son, said he wished his father-in-law could have been alive to see this moment.
"This is the greatest," said Campitelli, wearing the jersey of Wilbert Montgomery, the former Eagles running back to whom he once sold insurance. "I was hoping they would do it before I died, and they did it."
The scene in Boston was far more somber as fans inside the Banshee Bar had to come to terms with a rare loss for Tom Brady. Some, however, took it in stride.
"I've got nothing to complain about," Boston resident Bill Crowley said. "It's the greatest dynasty in NFL history and this loss tonight doesn't change that.
"They'll be back," Conor Hobert added. "One hundred percent, they'll be back."
Sam Murphy, 40, actually made the trip from Boston to Philadelphia, flying in Sunday morning before planning to fly back for work Monday. The longtime Eagles fan and Boston resident joked he couldn't be within 100 miles of his home, instead deciding to watch the game with his old University of Pennsylvania roommate Rob Ballenger, 41, at Grace Tavern, near 23rd and South Streets.
While standing in the back of the packed bar, Murphy drank Newbolds in honor of his father-in-law Ron Skubecz, who loved that beer and who once gave his children a football signed by Eagles legend Chuck Bednarik. Skubecz, a lifelong Eagles fan, died just three weeks ago, making Sunday's championship even more emotional for Murphy.
"This is Philly at its best," said Murphy, as he, Ballenger and hundreds of other new friends paraded down South Street to get to the party on Broad. "This team is what Philly is all about."
Read more top trending stories on wsoctv.com:
Associated Press