ROCK HILL, S.C. — Hundreds, possibly thousands of people have had their mail stolen in the Charlotte area in the past few months, officials said. Police said the thieves' motive was to steal identities by activating credit cards, in the victims' names.
Four suspects were caught in Mooresville after they targeted Rock Hill earlier this week.
[ALSO READ: Postal inspectors need help finding group accused in Charlotte mail thefts]
Mooresville police had similar reports of large mailboxes at apartment complexes being pried open with screwdrivers and crowbars.
Officers stopped a speeding car on Tuesday and inside, found a book bag full of mail.
Some of the mail was from Rock Hill.
Kaleef Carpenter, of Rock Hill, Haleem Gilliand, of Charlotte, Antwan Jones, of Shelby, and Aaron Wright, of Kingston were arrested and are accused of stealing mail.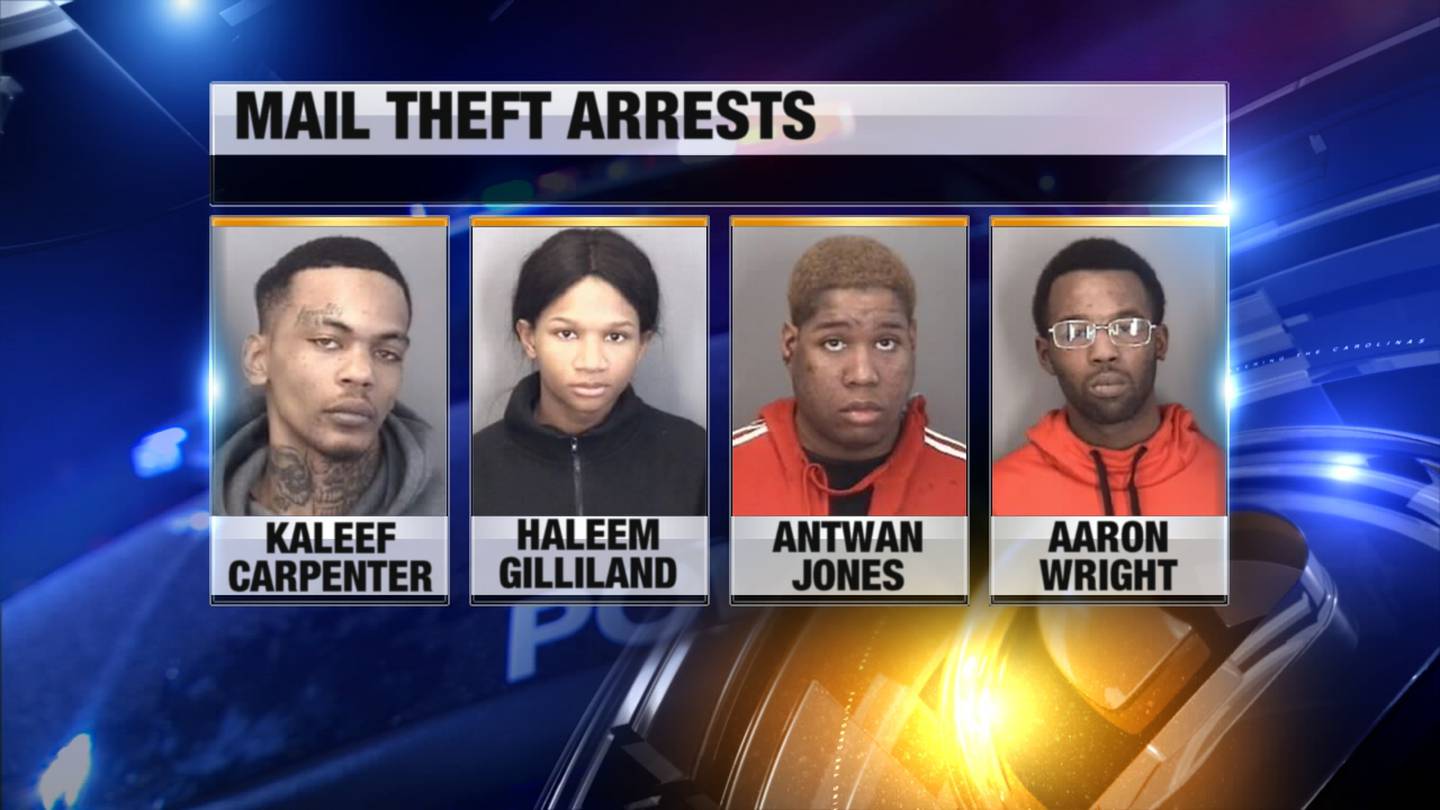 However, police believe they aren't living in the towns they listed as home.
Similar crimes in Atlanta, Asheville, Belmont and other cities in Georgia have been reported, and the United States Postal Service has also been investigating.
It's believed this group has traveled the Southeast committing the crimes fueling a drug habit involving meth and Xanax, police said.
Rock Hill police Detective Keith Dugan said the suspects were dumping large amounts of mail into bags looking for new credit cards.
"If they see start-up credit cards that get sent to you by companies, they'll go on the dark web and get your bio, get your date of birth, your Social Security number and where you live at. Then, they'll call the 800 number and activate that card," Dugan said.
Once activated in your name, they used the credit cards to buy gift cards, in which they lived on for as long as possible.
Barbara Burdett never thought about theft when checking her mailbox at River Stone Apartments in Rock Hill until a mail theft happened on Sunday.
"It's just sad," Burdett said. "Especially right after Christmas when people are trying to get caught up, ya know? And they're gonna be hit with something they had no idea was coming."
River Stone is one of three apartment complexes in Rock Hill hit by the same group of people on Sunday. They also hit Legacy at Manchester Village and Brookstone apartments on Marett Boulevard. At Legacy, the badly warped mailbox door was still visible Friday, and the mailbox isn't being used until it can be repaired.
Police said the suspects confessed to the crimes in Rock Hill and could be linked to several more.
They are facing charges in Mooresville and will likely be extradited to South Carolina to face charges in Rock Hill.
Read more top trending stories on wsoctv.com:
© 2020 Cox Media Group