What to know:
Riley Howell and Elis "Reed" Parlier were killed when a gunman opened fire in a UNCC classroom Tuesday
Police say Howell fought the gunman, saving the lives of classmates
Those wounded were Sean Dehart, Drew Pescaro, Emily Houpt and Rami Alramadhan
Police charged 22-year-old Trystan Terrell with 2 counts of murder and 4 counts of attempted murder
CHARLOTTE -- David Belnap stood on his North Carolina college campus aching from the latest U.S. school shooting as he held a candle and wore a homemade T-shirt with "Riley Howell is a hero" written on the back.
[SPECIAL SECTION: UNCC shooting coverage]
[ [WATCH: WSOC Special Report on UNC Charlotte tragedy] ]
Howell died in his classroom Tuesday at the University of North Carolina-Charlotte, charging and tackling a gunman who would kill him and another student and wound four others with a legally obtained pistol, authorities said.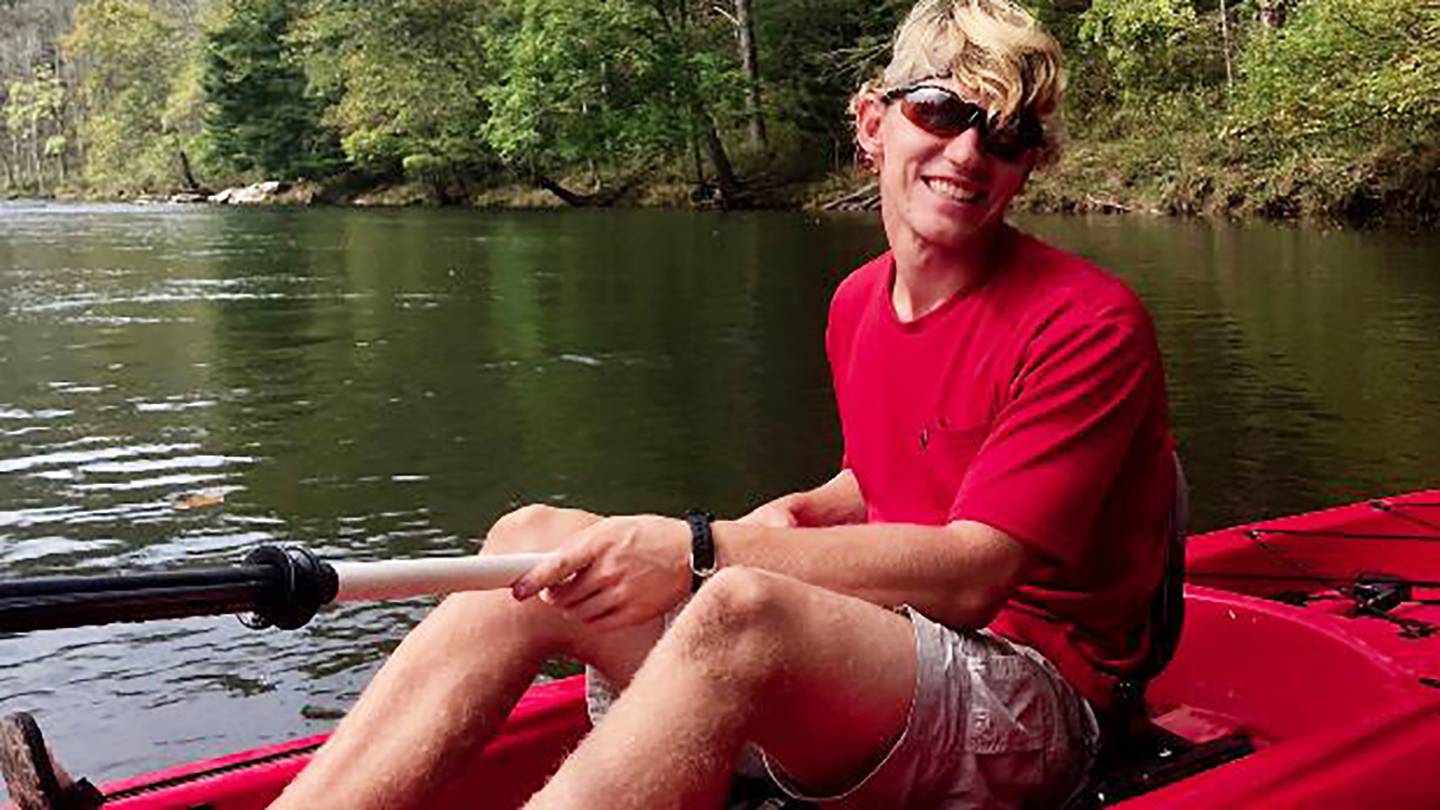 (Riley Howell)
Howell's decision to fight for the lives of others fit his character, Belnap said Wednesday at a candlelight vigil on campus the night after the shooting.
[Two young men tragically lost their lives at UNCC: Here's what we know about them]
"It seems very much like something he would do. I want that to be his legacy, that he lost his life to protect those he cared about," the sophomore said about his friend.
[PHOTOS: UNCC shooting victim's body taken home to Waynesville]
Howell, 21, likely went through the same active shooter drills as countless other students of his generation. They were taught to run away if they can, hide if they can't run and if the horrible situation arises where a gunman prevents those two choices -- fight for their lives.
>> We have continuous team coverage of the shooting on the campus of UNCC. WATCH Eyewitness News and return to this story for updates.
>> Remember, you can watch our newscasts anytime at home on Roku, Amazon Fire and Apple TV.
Howell knocked the assailant down, buying enough time for the first officer into the classroom to capture Trystan Andrew Terrell, Charlotte-Mecklenburg Police Chief Kerr Putney said.
"You're either going to run, you're going to hide and shield, or you're going to take the fight to the assailant. Having no place to run and hide, he did the last. But for his work, the assailant may not have been disarmed," Putney said. "Unfortunately, he gave his life in the process. But his sacrifice saved lives."
The gunman had a lot of ammunition and while detectives aren't sure if he was targeting anyone specifically Tuesday, they know he picked out the Kennedy Building and gave no indication he was going to stop shooting before Howell charged, Putney said.
"His sacrifice saved lives," the chief said.
Hundreds of people lined the streets as Howell's body was being transported back home to Waynesville on Thursday.
[READ FULL STORY: Hundreds line streets as law enforcement escorts fallen hero's body home]
Howell was with classmates for end-of-year presentations in an anthropology class when the shooting happened.
Authorities did not say how many students were in the anthropology class at the time of the shooting but said it was a fairly large class.
Putney says the weapon used in the shooting was purchased legally.
>> Download the WSOCTV news app for your smartphone and get updates on breaking stories as they come in.
In a statement, UNC-Charlotte said all the victims were students, five from North Carolina and one international. Howell, of Waynesville, and Ellis R. Parlier, 19 of Midland, were killed. Those wounded were Sean Dehart, 20, and Drew Pescaro, 19, both of Apex; Emily Houpt, 23, of Charlotte; and Rami Alramadhan, 20, of Saihat, Saudi Arabia. UNC-Charlotte Chancellor Philip DuBois said in radio interviews Wednesday that the freshman student's father is coming from Saudi Arabia.
[PHOTOS: 2 dead, 4 injured in shooting at UNCC]
University officials said that Alramadhan, Dehart, and Houpt have been released from the hospital.
Channel 9 learned faculty has approved degrees in memoriam for Howell and Parlier.
Terrell, 22, was charged with two counts of murder, four counts of attempted murder and other charges. He waived his right to appear court Thursday. His next hearing is scheduled for May 15.
The motive wasn't clear. Terrell had been enrolled at the school but withdrew this semester, UNC-Charlotte spokeswoman Buffy Stephens said. Campus Police Chief Jeff Baker said Terrell had not appeared on their radar as a potential threat.
Terrell is under observation in police custody, and his father and attorney haven't been allowed to speak to him, his grandfather Paul Rold said.
Rold said Terrell's father "hasn't a clue about what happened."
Terrell was on the autism spectrum but was "clever as can be" and bright enough to learn foreign languages, Rold said from his home in Arlington, Texas. He said his grandson wasn't very social.
Rold said the Charlotte campus shooting is the latest in a long line of mass shootings that won't end until laws reduce the volume of guns readily available.
"It's unfortunate that in our society it can be so easily perpetrated. He has no background in guns or gun collecting, gun interest," he said. "And how, in a short period of time, he was able to secure these weapons -- legally, illegally, however -- is the problem until Congress does something. If Sandy Hook, if Las Vegas, if Florida and these multiple incidents like yesterday can't get them to move, if they're more interested in reelection than the value of human life, this thing will continue."
>> Reading this story in our app? The new "Follow the Lead" feature allows you to tap the blue tag indicated with a '+' to subscribe to alerts on the very latest breaking news updates surrounding the UNCC campus shooting.
On Wednesday night, thousands of students and others thronged the school's basketball arena for a campus vigil. Student body president Chandler Crean wiped away tears as the school chancellor said they couldn't emerge unchanged from Tuesday's shooting, but they could emerge stronger. He later said the university needs to use the shock of what happened to make the world better.
"What happened yesterday cannot happen again," Crean said.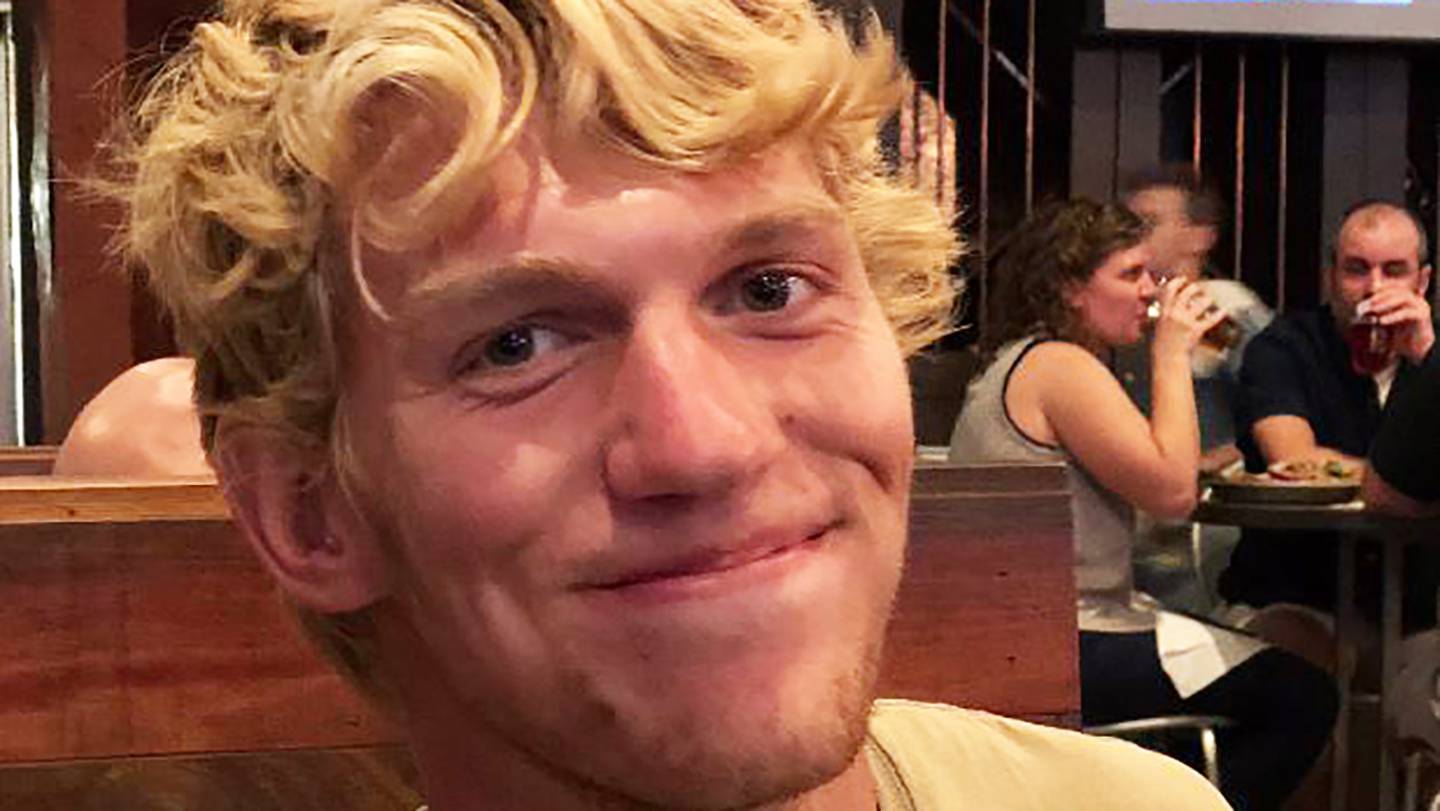 (Riley Howell)
The father of Howell's longtime girlfriend said news that he tackled the shooter wasn't surprising. Kevin Westmoreland, whose daughter Lauren dated Howell for nearly six years, said Howell was athletic and compassionate -- and would have been a good firefighter or paramedic.
"If Lauren was with Riley, he would step in front of a train for her if he had to," Westmoreland said. "I didn't realize it might come to that for somebody else."
Howell's funeral will be 5 p.m. Sunday at the Lake Junaluska Stuart Auditorium in Lake Junaluska. You can read his obituary here.
UNCC shooting victims remembered as athletic outdoorsman, tech enthusiast
Riley Howell had an athlete's physique and loved working outdoors on his family's farm. Ellis Parlier studied computer technology and liked video games.
Both of them were wrapping up the semester in the same anthropology class at the University of North Carolina-Charlotte when a gunman opened fire in the classroom. Howell and Parlier were killed in the attack Tuesday, and four other students were wounded.
[ALSO READ: What are the worst school shootings in modern US history?]
Howell, 21, of Waynesville was hailed as a hero as stunned friends and family grieved in the aftermath Wednesday. A runner and former soccer player, Howell charged the shooter and tackled him before being fatally wounded, said Charlotte-Mecklenburg Police Chief Kerr Putney.
Those closest to Howell weren't surprised. He was "a big, muscular guy with a huge heart," Howell's family said in a statement Wednesday. The father of his longtime girlfriend, Lauren Westmoreland, said Howell would have made a fine firefighter or paramedic.
[ [CLICK to read the family's full statement] ]
"If what happened in that room is what they say, I completely see Riley doing that," said Kevin Westmoreland, whose daughter was Howell's girlfriend of nearly six years. "He was just the kind of person, if someone tripped and fell, he would be the first one to try to help them."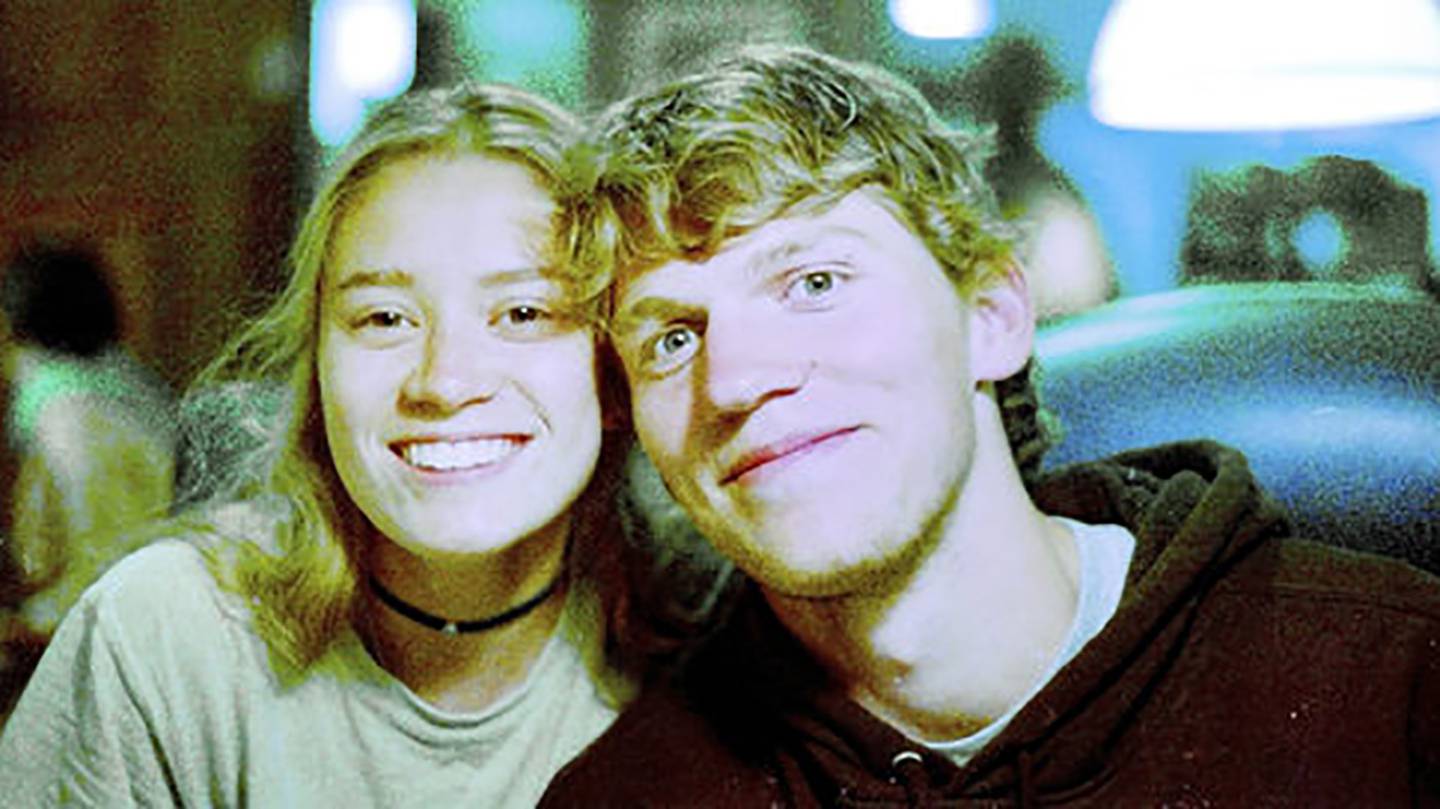 (Lauren Westmoreland and Riley Howell)
Howell and Lauren started dating at age 15 when they met in high school in the Asheville area. They stayed together even after deciding to attend colleges in separate cities. Lauren's father said they wanted to finish college before planning a future together.
"It's been the hardest day of her life," Kevin Westmoreland said of his daughter. "I'm just, I'm gonna miss that kid. I wish more people could have met him. He was a good boy, good man, good person."
The past 35 hours have been difficult for Westmoreland, who said Howell was almost like a son.
"They fell in love at 15," Westmoreland said of his daughter Lauren and Howell.
After graduation, she went to N.C. State and he went to UNC Charlotte. But the two saw each other on weekends and school breaks. Now, Westmoreland is focused on trying to comfort his daughter, bringing her home from N.C. State.
"To go down and pick her up with the idea we will never see him again is terrible for all of us," he said.
(Lauren Westmoreland and Riley Howell)
Together they met up with Howell's family.
"I just hugged them," Westmoreland said. "I didn't want to let go. I don't think they wanted to let go."
Howell's death struck a heartbreaking chord for all.
"It might sound like a cliche, he was nice to old people and animals," Westmoreland said. "For me, it's how to be the dad my daughter needs right now. How do I help her get through this and not let it define her? I want to help her through this."
Howell was enrolled in a second semester of ROTC courses at UNC-Charlotte, though he wasn't among those pursuing a career as a military officer, said Lt. Col. Chunka Smith, who runs the school's Army ROTC program. Howell would have been taught in ROTC to seek cover if confronted by a gunman rather than fight, Smith said.
"But I just believe it's inherent in those who take the class, based off of their backgrounds and their upbringing ... that someone would actually sacrifice themselves for others," Smith said.
Parlier was a 19-year-old student from Midland, in the Charlotte area, who graduated from Central Academy of Technology and Arts in 2017. His studies there focused on information technology and computer technology, said Tahira Stalberte, a spokeswoman for Union County Public Schools.
(Ellis "Reed" Parlier)
Flags outside Parlier's former high school flew at half-staff in his memory Wednesday.
"It's very shocking as you can imagine," Stalberte told The Greenville News. "Our community is still in shock in dealing with this loss."
A woman who answered the phone at the home of Parlier's parents Wednesday said the family had no immediate comment.
Jeremy Shue said he and Parlier had been friends since the 6th grade and both of them went on to attend UNC-Charlotte. Parlier had a love for video games, Shue said, and had a caring personality.
Pescaro was visited in his Charlotte hospital room Tuesday night by his parents, brother, girlfriend and fraternity brothers, said UNC-Charlotte football coach Will Healy. Pescaro is a paid video assistant for the team, analyzing practice film, said Healy, who visited the hospital and spoke with Pescaro's parents.
"It becomes extremely real whenever you're that close with somebody and that close to a place that that happens. You see it on the news all the time, but for it to happen right in your backyard is terrifying," Healy said.
UNCC remembers slain students at vigil
The chancellor of UNCC said the school won't be defined by the tragedy.
University of North Carolina-Charlotte Chancellor Philip Dubois said during a vigil in the school's basketball arena that the university can be defined by how it responds to Tuesday's shooting, which also injured four other students.
[READ MORE: How to cope with fear, sadness after a mass shooting]
Student Body President Chandler Crean fought back tears as he said Wednesday that students, professors and administrators must do all they can to make sure this never happens at another school.
Emotion caught in DuBois' voice several times also. He told the thousands of people at the vigil they will forever be changed, but they will forever be stronger.
[GoFundMe: Drew Pescaro family]
[Petition: Allow for ROTC Cadet Riley Howell to receive a full honors military burial]
[Change.org: Rename UNCC stadium for Riley Howell]
Channel 9 will have continuous team coverage of the shooting on the campus of UNCC. Watch Eyewitness News throughout the day and return to this story for updates.
The Associated Press contributed to this report.
Cox Media Group