CHARLOTTE, N.C. — Clergy leaders called it a "March for Justice" as they braved the cold Monday morning and marched to the Martin Luther King Jr. statue at Marshall Park to honor the one of the most well-known and respected activists in American history.
[PHOTOS: 2018 Charlotte MLK Parade]
[ [PHOTOS: Remembering Dr. Martin Luther King Jr.] ]
"We were part of desegregation when it first began, and I was the only African-American in the classroom," resident Stacy King-Chaney said.
During the march from the NASCAR Hall of Fame to Marshall Park, the crowds reflected on what the leaders stood for -- equality and freedom.
King-Chaney marched with her daughters because she she believes there still many inequities that need to be addressed in the Charlotte community.
"If you don't show them anything, then they don't see anything then they will do anything and there is still much to be done," King-Chaney said.
The crowd stood in a circle around the statue, arms locked, singing "Lift Every Voice and Sing."
Mayor Vi Lyles, the city's first African-American female mayor, helped place the wreath at the statue, along with other leaders in the community.
Lyles said King spoke about the right for people to have good-paying jobs and a good place to live. She said that's something Charlotte is still working on every day.
"When Dr. King was shot and assassinated, it was because he was speaking up for people. Their rights to have a good job and a good place to live, and our economic study says we need to work for people to have good jobs and a place to live. So we have come a long way and we have a long way to go," Lyles said.
[Crowds line the streets of uptown to celebrate legacy of Martin Luther King Jr.]
Even after the wreath-laying ceremony, people stopped by the statue all day, some taking pictures, while others talked to their children about King's powerful messages.
"He wanted to change the world for other people," 7-year-old Caylia Nesbet said.
Over the weekend, many in Charlotte spent the holiday volunteering in honor of King's legacy. It has become a tradition for those who want to remember his life.
The group "Hands on Charlotte" provided service options, including some family-friendly projects.
"We want to bring attention to all the various concerns that Dr. King would be concerned about were he alive today," said Rev. Rodney Sadler who led the March for Justice. "Things like healthcare, mass incarceration, poverty and racial disparity...in cities like Charlotte."
This weekend, the Carolinas joined other southern states to help promote civil rights tourism in the South by launching a new website mapping out a "Civil Rights Trail," with more than 100 locations to visit to learn more about the movement.
[CLICK HERE for Civil Rights tourism site]
One of the featured landmarks is in Rock Hill, where nine black men sat at a whites-only lunch counter in 1961.
They spent 30 days in jail instead of paying a $100 fine.
In 2015, a Rock Hill judge overturned their convictions and called the men heroes.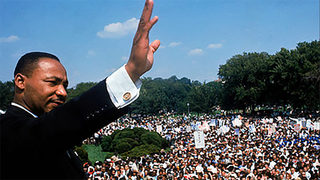 King's words still inspire nearly 50 years after his death
Though his voice was silenced nearly 50 years ago, the Rev. Martin Luther King Jr.'s message of nonviolence still resonates and inspires.
Decades ago, the famed civil rights leader - also regarded as one of America's greatest orators - recalled driving one night from Atlanta to Chattanooga, Tennessee, with his brother A.D. at the wheel. Most cars in the opposite lane failed to dim their lights, and his brother angrily vowed to keep his bright lights on in retaliation.
"And I looked at him right quick and said: 'Oh no, don't do that. There'd be too much light on this highway, and it will end up in mutual destruction for all. Somebody got to have some sense on this highway,'" King told the congregation at the Dexter Avenue Baptist Church in Montgomery, Alabama during a 1957 sermon.
"Somebody must have sense enough to dim the lights, and that is the trouble, isn't it?" King told the congregation. "That as all of the civilizations of the world move up the highway of history, so many civilizations, having looked at other civilizations that refused to dim the lights, and they decided to refuse to dim theirs."
More than a half-century later, in a world full of contentious politics, one of King's memorable quotes remains relevant. It's from his book "Strength to Love," first published in 1963:
"Returning hate for hate multiplies hate, adding deeper darkness to a night already devoid of stars. Darkness cannot drive out darkness; only light can do that. Hate cannot drive out hate; only love can do that. Hate multiplies hate, violence multiplies violence, and toughness multiplies toughness in a descending spiral of destruction."
The AP asked a half-dozen people in the cities where he was born and where he died to consider his words and talk about what they mean for today's world.
Some were interviewed in Atlanta, home to King's Ebenezer Baptist Church congregation and his office where Xernona Clayton organized protest marches and fundraisers. Others reflected on the quote in Memphis, in front of the Lorraine Motel balcony where King was assassinated on April 4, 1968.
___
"When he says 'hate cannot drive out hate, only light can do that,' it recognizes that to be bitter about your circumstance is one thing. To retaliate based on your circumstance is quite another," said Terri Lee Freeman, president of the National Civil Rights Museum in Memphis, at the site of the old Lorraine Motel. "So, Dr. King reminds us that it is usually through love - actionable love - that we are able to make change."
___
"In order to fulfill a dream, it's going to take a team that's going to demonstrate love and not hate," Cleophus Smith said.
Smith was one of the sanitation workers who went on strike in 1968 after two of his co-workers were killed by a malfunctioning garbage truck. King was in Memphis supporting the sanitation workers' strike when he was slain at the Lorraine Motel.
___
"You think about the grand scheme of things, you can't fight hate with hate in the world we live in today. You can't fight violence with violence," said Mike Conley, a guard for the Memphis Grizzlies of the National Basketball Association.
"When people come and want to inflict hurt on somebody, you can't come back and do the same to them," Conley said. "Otherwise, we're in this never-ending spiral that we're in the middle of right now."
___
"This is a time of moral reckoning in our nation. We must choose to stand on the side of light and love," said the Rev. Raphael Warnock, senior pastor of Ebenezer Baptist Church in Atlanta.
"We have to stand up as Americans and say that we will stand on behalf of the poor, the marginalized, those who experience discrimination both historically, and presently," he added. "This is our time, this is our moment to decide what kind of nation we want to be."
___
"He talked about love and hate so effectively," said Xernona Clayton, King's office manager in Atlanta. "Dr. King really hated no one. He loved everyone, he really did. He practiced it, and he preached it.
"So when he talks about what hate does versus what love does, it's so applicable to today," she said. "We have to drive out hate any way we can. We have to strengthen love any way we can."
The awards ceremony will honor those who demonstrate King's ideals to strengthen the community and recognize the winners of the Charlotte-Mecklenburg Schools arts and writing contest.
Read more top trending stories on wsoctv.com:
Cox Media Group