CHARLOTTE, N.C. — Roads surrounding the Spectrum Center in uptown Charlotte started being blocked off Thursday night as visitors swarmed into town for the NBA All-Star Weekend.
[MORE COVERAGE: NBA All-Star Weekend]
Police had Trade Street closed at College Street, so only pedestrians could access that area around the Spectrum Center.
The following streets near the Spectrum Center will be closed:
East Fifth Street
Fourth Street
Caldwell Street
Brevard Street
East Trade Street
At 9:35 p.m. Thursday, CMPD tweeted barriers were being put in place.
CATS is moving the Charlotte Transportation Center from Trade Street to a parking lot across from the Seventh Street Station parking deck.
Officials want to make the experience comfortable for riders, providing a heated waiting area and restrooms.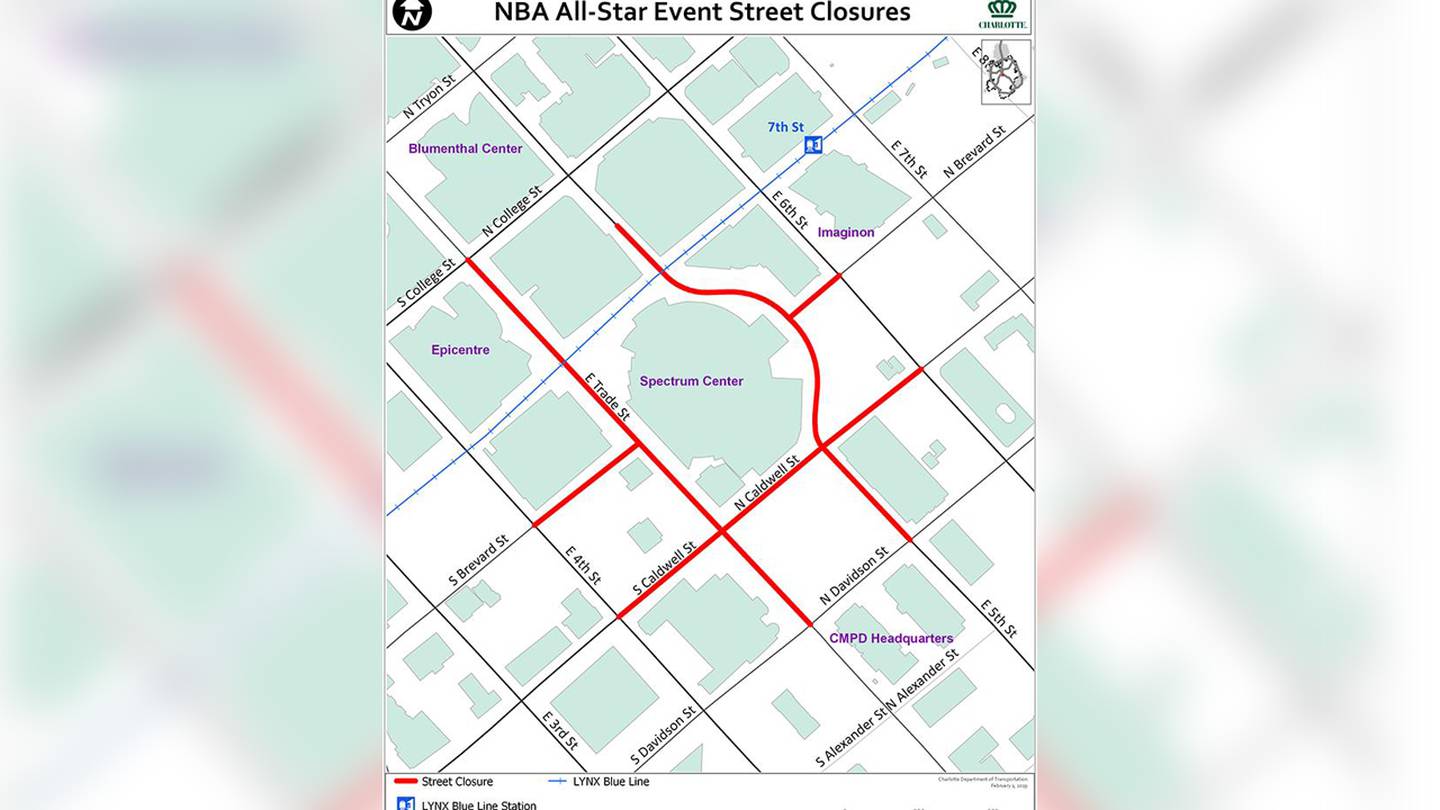 Inside the Spectrum Center, the Charlotte Hornets' home court has been transformed to accommodate the NBA All-Star venue.
Crews erected an enormous stage where players will be introduced, and entertainers will perform for halftime shows.
The EpiCentre in uptown will be the fan hub over the weekend. There will be player appearances, virtual reality experiences and one-of-a-kind gear for sale.
[NBA All-Star Weekend: Who is participating in what event]
The EpiCentre, full of restaurants, bars and stores, will open Friday with the All-Star facelift for NBA fans to enjoy.
RESOURCES:
Follow us on Twitter:
"We wanted to make sure we could create as many different types of events and provide as much access to NBA All-Star to the fans as possible," said Kelly Flatow, senior vice president of NBA Global Partnerships.
It's an ambitious effort from the NBA, which has never taken over a space like the EpiCentre.
"It was a terrific space for us to customize an intimate experience for fans -- both our casual fans that are interested in the lifestyle, as well as our hardcore fans that are really interested in the game," Flatow said.
The EpiCentre and the rest of uptown will return to normal when the NBA's brightest stars leave town.
Cox Media Group