CHARLOTTE, N.C. — An American Airlines flight that took off from Charlotte on Wednesday morning was forced to turn back and land at Charlotte Douglas International Airport after experiencing an apparent engine issue.
According to FlightAware, American Airlines Flight 1668 took off around 7:45 a.m. and had a problem a few minutes later. It was headed to Chicago with more than 180 people on board.
[IMAGES: Plane lands at Charlotte Douglas after reported engine problem]
Channel 9 learned that the pilot declared an emergency after an engine apparently stalled. The pilot reported that he did not see a fire but asked fire officials to meet the plane on the runway.
"Almost immediately, you could start seeing flames coming from the engine," passenger Mark Ponder said.
Several viewers told Channel 9 they saw a plane in the sky with flames coming from it just before 8 a.m.
"The right side of the plane started shuttering intermittently every few seconds really loudly," Ponder said.
Channel 9 spoke with a passenger who was on the plane when the issue happened.
"As we took off from Charlotte, there was a rattling and shaking on the plane," Jesse Batson said. "It was a very bumpy takeoff."
Batson said the passenger seated next to him in the window seat, as well as several others, spotted sparks from one of the engines on the right side of the plane.
"There was kind of this noise, this 'doo doo doo doo doo,' and you felt the vibrations, heard the noise and it wasn't stopping," Batson said. "It maybe lasted, like, two minutes or something."
He told Channel 9 that the pilot spoke over the loudspeaker and told them there was a stall in the No. 2 engine. The engine continued to run but the flight returned to Charlotte as a precaution.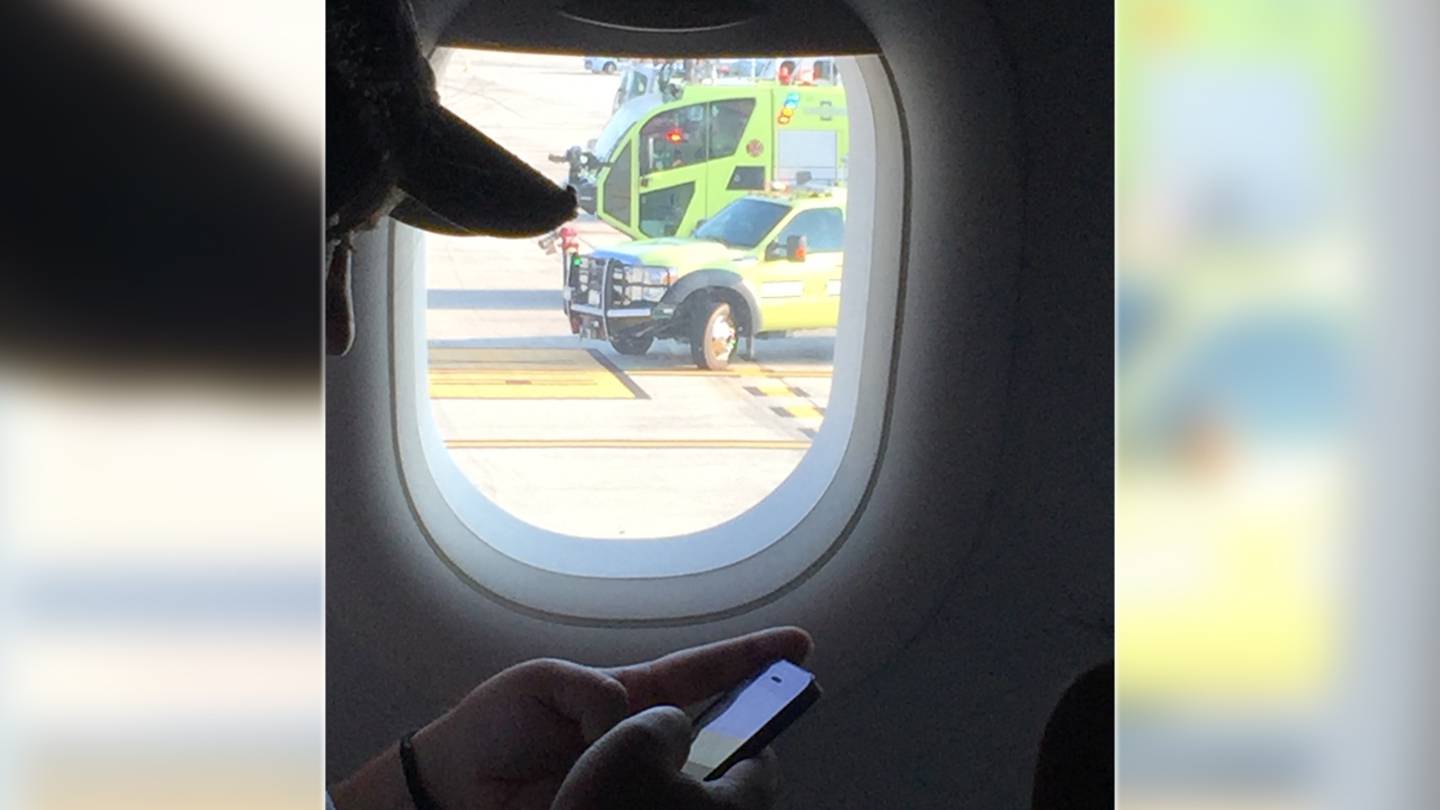 Channel 9 watched as fire crews surrounded the plane after it landed safely just before 8:20 a.m. No fire was visible and nobody was hurt.
Another passenger told Channel 9 reporter Mark Barber that, shortly after takeoff, the plane tilted to the right and loud noises could be heard.
"You could hear it popping," Ponder said. "As we went up in the air, I could hear large noises and, almost immediately, you can see flames coming from the engine."
Another passenger said she saw her life flash before her eyes, and then a kind stranger helped her.
"I was kind of in, like, a panic mode," passenger Cindy Fredette said. "The gentleman beside me was a Marine, and he talked to me about his job the whole time, going through everything to keep me calm."
A Channel 9 viewer, Megan Benton, was able to capture the sound of the engines as the plane flew over her home near Mountain Island Lake:
Passengers applauded when the plane landed safely. They said the pilot spoke over the loudspeaker, telling the relieved travelers, "That's how you land a plane."
The plane taxied to the gate, where the passengers were removed and booked onto another flight, which departed the airport just before noon.
Those on board said they still haven't been told what happened. Officials haven't said what caused the problem.
Channel 9 learned the plane originated from Los Angeles on Tuesday night and it's not believed that any problems were reported with that flight.
Check back with wsoctv.com for updates on this story.
Read more top trending stories on wsoctv.com:
Cox Media Group