GASTONIA, N.C. — Police have charged six suspects who they said ransacked a Gaston County Quik Trip and injured a clerk. They are also searching for one other suspect in connection with the incident.
The most recent arrest was Sunday when police took 28-year-old Jeremy Rice into custody. Rice was charged with felony inciting a riot as well as marijuana possession and schedule VI controlled substance possession, according to our news partner the Gaston Gazette.
He was booked into the Gaston County Jail and given a $20,000 secured bond, but was later released on bail.
Elijah Stowe, 20, turned himself in last Saturday. He is facing several charges, including felony assault with a deadly weapon with serious injury and felony inciting to riot.
Police said Stowe is the one who hit the manager in the face with a bottle, fracturing her eye socket. Channel 9 learned she has had surgery and is recovering.
Before turning himself in to police, Stowe posted on Facebook saying "I can accept my actions, but that's definitely not my character. I definitely let my family and most important, myself down."
Stowe's uncle James Ross told Channel 9′s Gaston County reporter Ken Lemon Stowe has never been in trouble before.
"A 20-year-old innocent kid that never had anything all his life, but work," Ross said.
Ross said Stowe and several other underage people were served drinks at a bar. He said that is what led to gunfire and a wounded manager. Officials said all of the other suspects are of legal drinking age.
"We are very sorry for her accident and it was just a situation where you had a bunch of young people that were intoxicated," Ross said.
Channel 9 reached out to Alcohol Law Enforcement about the allegations of underage drinking at a night club. They said they investigated, but the owner of the club denied it and so far, the ALE has not found enough evidence to charge anyone.
Stowe was being held at the Gaston County Jail with bail set at $20,000, but has since bonded out.
(Top left to right: Stowe, Curry, Davis; Bottom left to right: White, Dawkins, Burris)
Allen Curry, 25, was charged with felony inciting a riot. He was booked at the Kings Mountain Police Department and was given a $10,000 secured bond, but he has since bonded out.
Officials said 32-year-old Laquisha Burris is facing a misdemeanor larceny charge. She was booked at the Gaston County Sheriff's Office and given a $1,000 unsecured bond.
On Monday morning, authorities said they had arrested Rebecca Dawkins, who is charged with felony inciting a riot and misdemeanor larceny.
De'Mallon White was also arrested and charged with felony inciting a riot, according to the Gaston Gazette.
Authorities are still searching for Derrick Davis, who is charged with felony inciting a riot.
Disturbing cellphone video captured the chaotic moments at the QT on West Franklin Boulevard in Gastonia early last Sunday morning.
The video shows the store torn apart, products from the gas station all over the floor and a worker who appeared to be badly hurt, kneeling on the ground holding a cloth to her head.
Gastonia native and activist Martino Brice said the video should be an eye-opener.
"It's like the cry you heard around the city," Brice said.
There were no police seen in the video, which is about six minutes long. Then, after a fight in the parking lot, the chaos ended with gunfire.
Brice said he used to be like the people in the video: Young, troubled and headed in the wrong direction.
Then someone helped Brice out of the bad situation, so now he wants to help others in the same way.
"I can't control people's actions, but I can at least reach out and try to at least change one person's life," he said.
Brice said he and the operators of Vibes Barbershop are hosting a community forum Sunday afternoon at the shop on East Franklin Boulevard.
"I was saddened when I saw the video," barber Jerry Poe said.
The plan is to organize people to help the youth. They want those involved in this incident over the weekend to come, too.
"I'm trying to stop it from escalating to a point where it can go out of hand," Brice said. "It can go wild like a fire."
Organizers for the forum said the teens in the QT video won't go to police and shrug at the thought of going to city hall or a church, but the barbershop is familiar territory.
"Where people can come and be themselves," Poe said. "It's like a home away from home. It grows from here."
One victim, who did not want to be identified, said he was there when it all started around 1 a.m. He said the group attacked and robbed him and his stepfather, who is handicapped.
[ ALSO READ: Looters raid Wilmington Family Dollar; police pull back at management request ]
"The guy that hit me, I did see him in the video," the man said. "Soon as they saw me, they just ran up on me and they just hit me. I got knocked out, started bleeding and I ran inside."
He said police soon showed up, took a report from him and then left. He also left, but he believes the suspects came back angry the police were called.
"I think it's just young kids, maybe, trying to make a name for themselves and it's at the cost of innocent people, innocent people," the man said.
He said he did not know the people who attacked him and his stepfather.
Quik Trip said the worker in the video is recovering and in a statement said, "Quik Trip plans to pursue the harshest criminal penalties allowed by law and we are exploring all civil penalties against those who stole and destroyed personal property."
QT did not say they're adding more security at the location but said they are working with police and taking the situation very seriously.
Police are asking anyone who may know where the suspects are to call them at 704-866-6702. They said this is an ongoing investigation.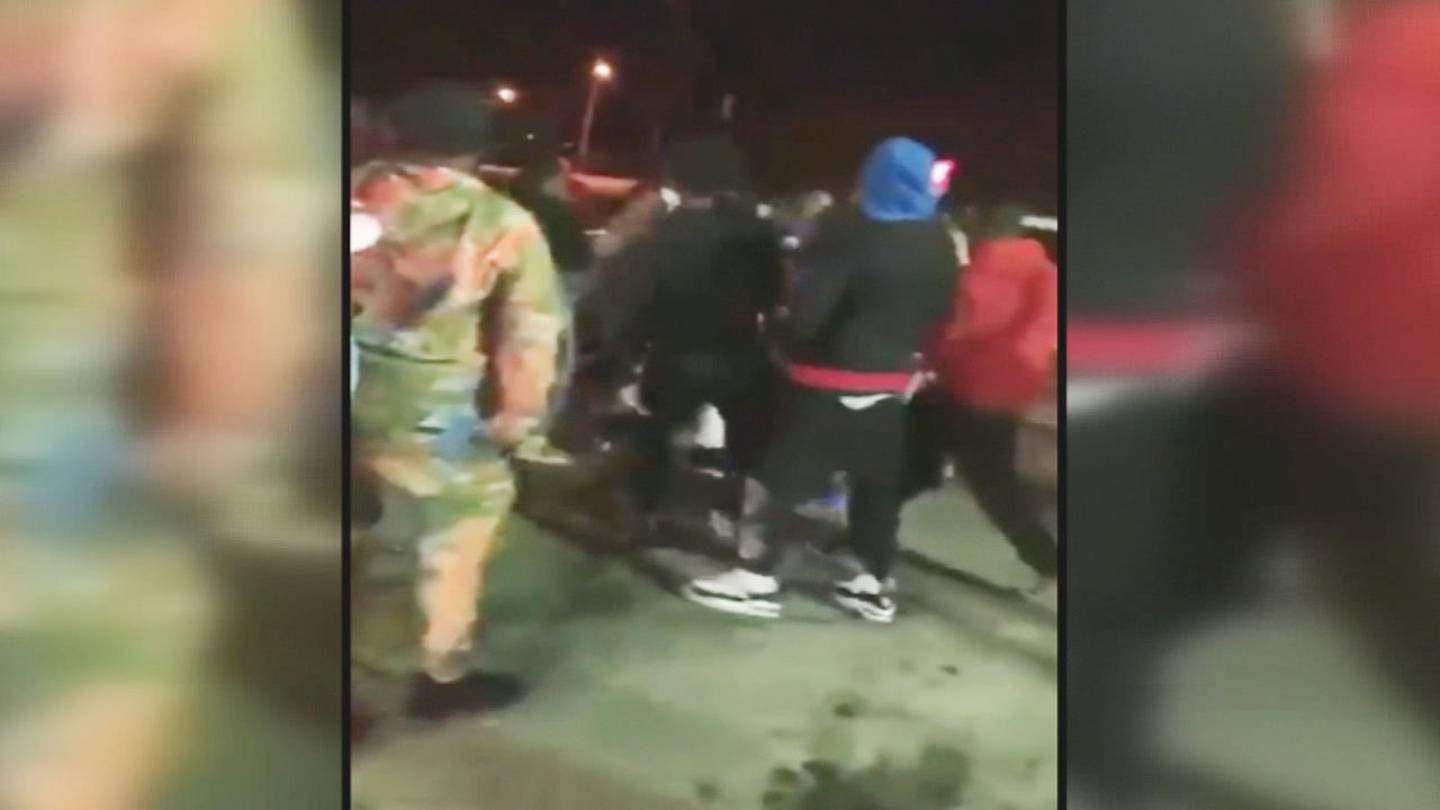 Read more top trending stories on wsoctv.com:
© 2020 Cox Media Group