CLEVELAND COUNTY, N.C. — A Cleveland County deputy who survived being shot twice is out of the hospital and recovering at home.
Channel 9 reporter Stephanie Tinoco was at the homecoming Saturday afternoon where friends and family welcomed deputy Tim Sims home with open arms.
"It's good to be back. It's good to be back, say hello to the world," Sims said to the crowd.
"The minimal injuries that he has from actually suffering from gunshot wounds is just amazing, a blessing from God," said Sgt. Jody Seagle with the Cleveland County Sheriff's Office.
Friends and family showed support for Sims who cracked jokes for the first time since he was hospitalized with gunshot wounds to the face and leg.
"Gotta get this walking back right and we'll be back," Sims said.
Sims spent three days in the hospital after he was shot Tuesday night along Highway 74.
Cleveland County Sheriff Alan Norman said Sims was responding to a call about a man who was wanted on numerous probation and parole violations spotted at the KM Auto Broker dealership around 10:30 p.m.
The dealership is located between Kings Mountain and Shelby.
Officials said the suspect, Dakota Gage Greene, was driving a car reported stolen from Randolph County.
According to authorities, Sims found Greene and got into a confrontation with him. That's when the suspect pulled a handgun from his waistband and shot Sims in the face and thigh, Norman said.
Sims was able to return fire, striking the suspect's vehicle as he fled. Greene was not hit.
"In the back of your mind, you know it could happen, and it rolled up on my feet, so to speak, last night around 10:30, and it's a shock wave," the sheriff said, calling the shooting a senseless attack on law enforcement.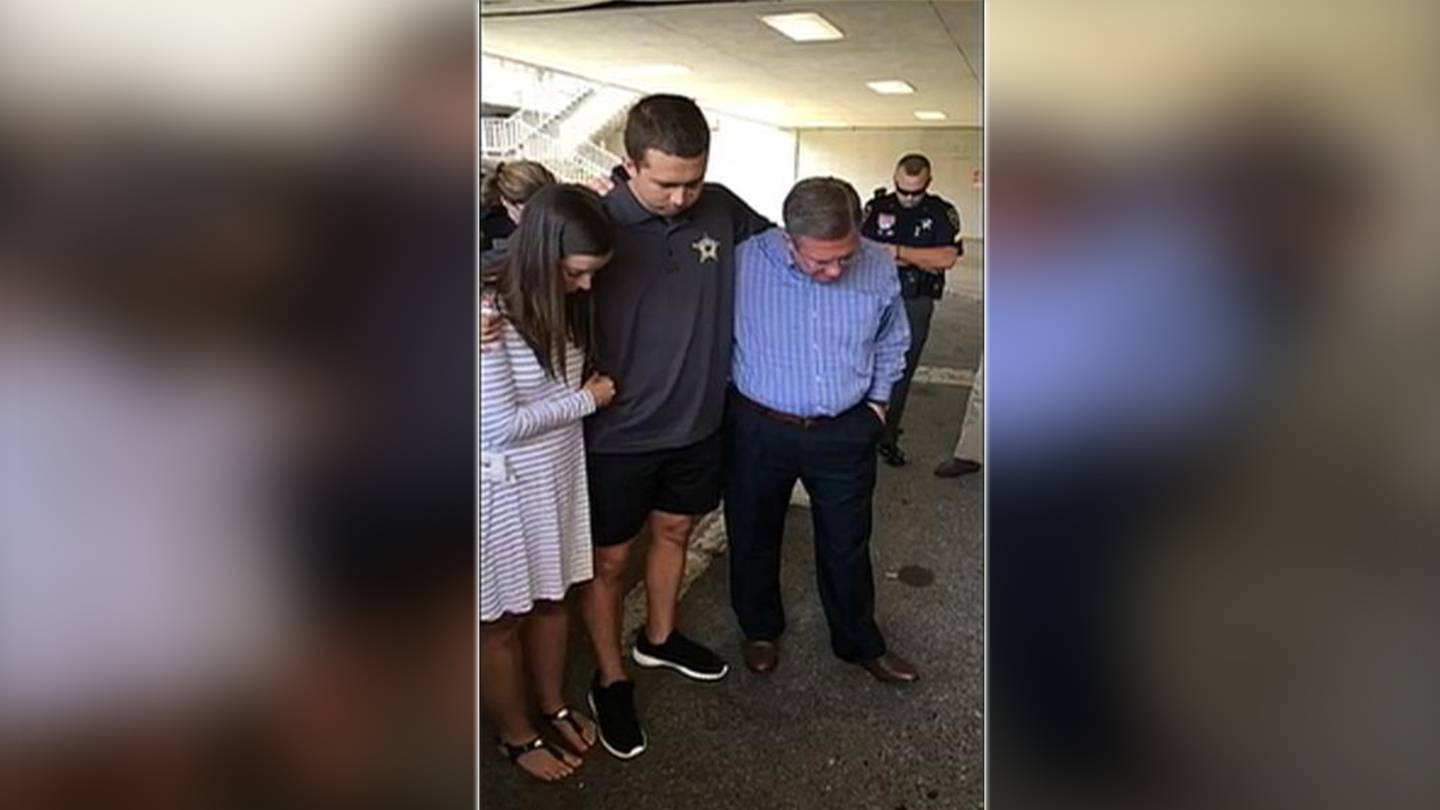 "That's definitely the call you never want to come across your speaker or your radio," Seagle said.
"It was one of the most sickening feelings I actually ever had," Norman said.
[ >>Read more trending news here ]
It's been a tough few days for the Cleveland County Sheriff's Office, but on Saturday, it was about celebrating Sims' life.
"Thanks for coming out. I appreciate ya'll coming out," Sims said. "Welcoming me home, that's wonderful."
(Cleveland County Sheriff's Office)
"Him getting out of the car was just a great sight to see, and being able to hug him and just tell him you know we're glad to have him back is just a great feeling to have," Seagle said.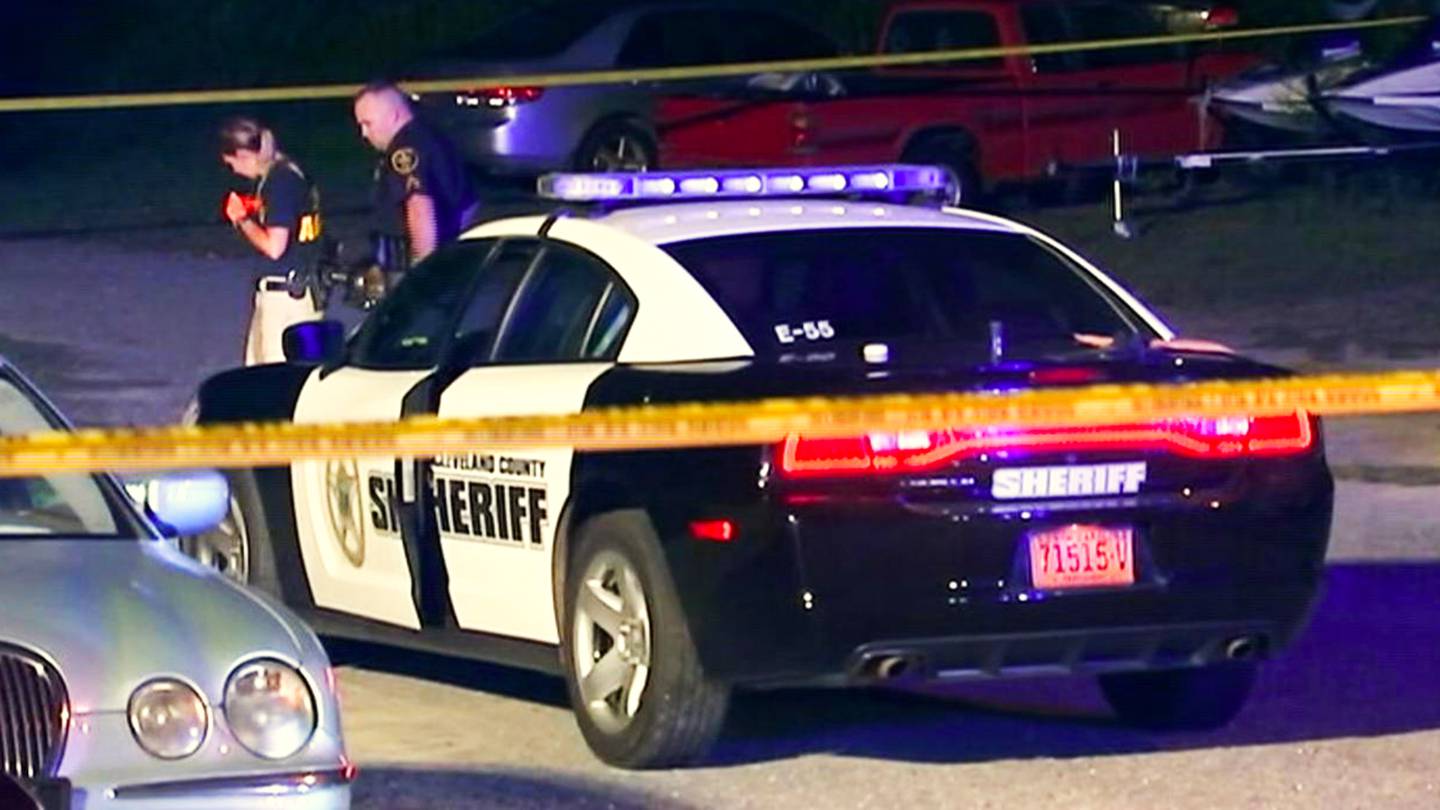 While Greene is in jail under a $2 million bond, Norman said there will not be a plea bargain in this case and he hopes the shooter stays behind bars.
"As the sheriff, I'm going to see that he's prosecuted to the fullest extent, and if not, I want to know why," Norman said.
[IMAGES: Cleveland County deputy shot along Highway 74]
Norman called Sims a fine example of a sheriff's deputy and said Sims had little chance to defend himself.
"Deputy Sims came to work to protect the people of Cleveland County," Norman said. "He was the thread that held the material together."
Sims, whose wife is pregnant with twins, was taken to Cleveland Regional Medical Center before being airlifted to Carolinas Medical Center in Charlotte. Norman said his deputy faces a long road to recovery.
"I don't know where the attack on law enforcement stops, but I can tell you this: It won't be tolerated in Cleveland County," the sheriff said. "He (Greene) is considered a violent thug, in my opinion, prior to him firing on law enforcement. And once he fires on law enforcement he shows me... he has no regard for human life."
"The deputy sheriff came to work tonight to defend the citizens of Cleveland County and to go home to his family this morning, and right now he's laying in a hospital in guarded condition," Norman told Channel 9.
Norman said Sims has been with the department for two years and three months, adding that Sims also has a brother employed with the sheriff's office.
"He is an outgoing individual," Norman said when asked to describe his deputy. "I'd be proud to call him a son."
We first updated WSOCTV news app users with a notification just before 5 a.m. Wednesday that the deputy was flown to the hospital and that the alleged shooter was in custody.
Download the WSOCTV news app for your smartphone and get updates on this developing story as they come in.
Investigators were able to use the deputy's dashcam video to identify Greene, whom they arrested a few hours later more than 50 miles away in Harrisburg.
Greene was charged with first-degree attempted murder and possession of a firearm by a convicted felon.
Norman said he spoke with Sims Thursday morning and he is focused on getting back to work.
"He is focused on complete healing to return to a black and white vehicle," Norman said.
The sheriff said he's received several calls and letters from people asking how they can help.
"People are actually wanting to know what they can do. The main thing right now is to pray," Norman said.
The North Carolina Highway Patrol and the SBI are involved in the investigation, along with local authorities.
Sheriff Alan Norman Press Conference on #deputyshooting

Posted by Ken Lemon on Wednesday, August 15, 2018
Read more top trending stories on wsoctv.com:
Cox Media Group