CHARLOTTE, N.C. — Two men are in custody after a police chase ended in a crash in north Charlotte Tuesday morning.
Channel 9 could see a damaged silver Dodge Charger that had crashed into several vehicles and ended up abandoned in a parking lot on North Tryon Street near 28th Street with officers surrounding it.
From Chopper 9 Skyzoom, officers were spotted running through the parking lot, chasing a man who eventually jumped over a barbed wire fence before laying on the ground and being handcuffed.
(WATCH BELOW: Police chase, arrest suspect in north Charlotte)
Reporter Liz Foster reported that North Tryon Street near 28th Street was temporarily shut down in both directions and that shattered glass was scattered across the roadway.
[ALSO READ: Hold up at Ballantyne Wells Fargo Charlotte's second bank robbery of day]
Charlotte-Mecklenburg police told Channel 9 they arrested two men, identified as Shiquil Wilson and Antonio Gourdine.
Channel 9 was there as one of the suspects yelled out to a friend while being loaded into an ambulance, "Will you tell my wife and kids I'm getting locked up?"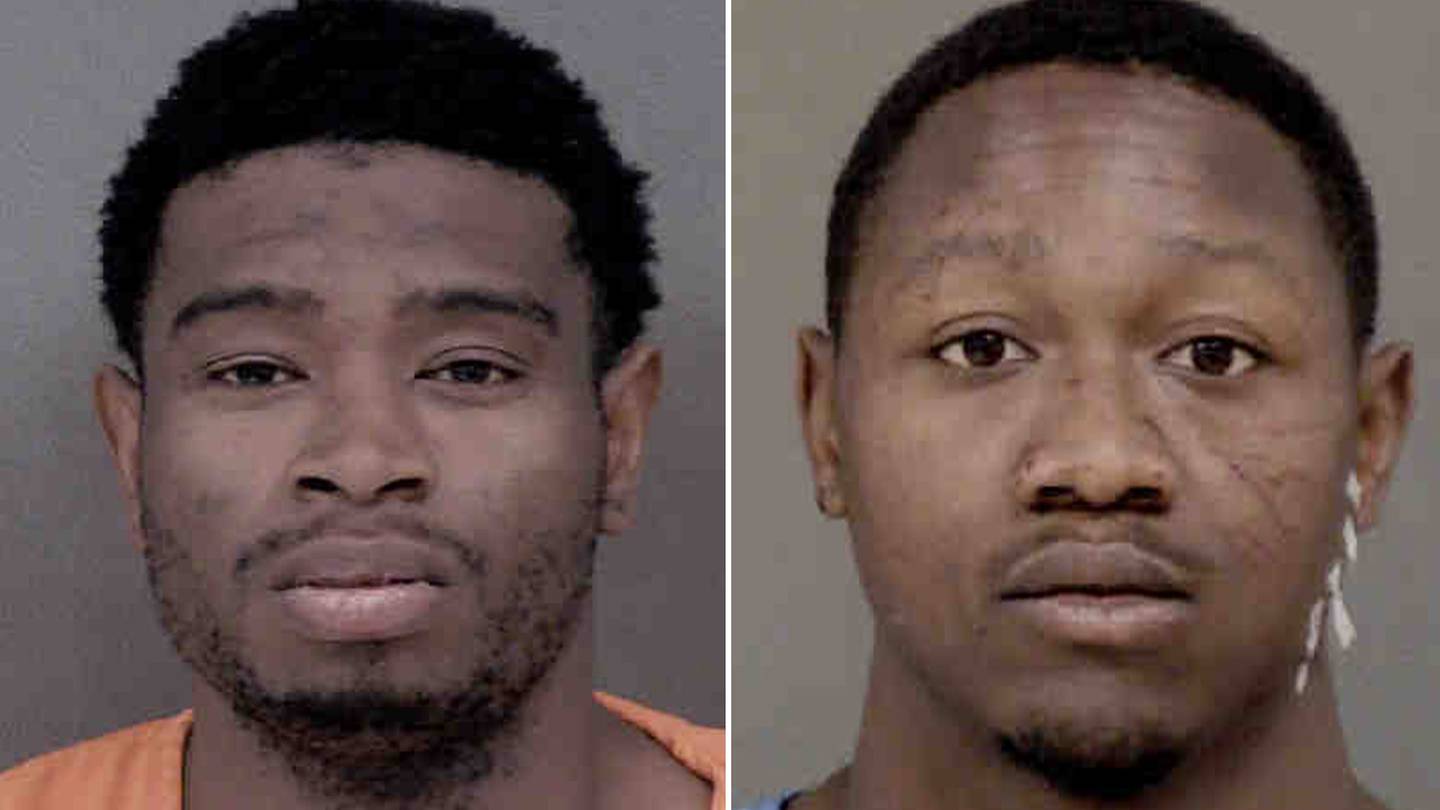 (Antonio Gourdine and
Shiquil
Wilson)
CMPD told Channel 9 the two suspects robbed a Hispanic man at gunpoint for and stole his chainsaw earlier Tuesday morning. During that robbery, one of the suspects fired a shot at the victim.
"When he confronted them, they actually fired a round at him," CMPD Capt. Zeru Chickoree said.
That victim was not hurt.
A few hours later, around 10 a.m., officers spotted the suspects in a Dodge Charger, which sped off before crashing.
At least one of the suspects tried to run but officers were able to capture them both, police said.
Mohammed Nigoor works at a clothing shop near where the chase ended.
He opened the store late because the business parking lot became a crime scene.
"I was, like, very excited. What's going on here?" Nigoor said. "I thought it was a shooting or something."
Officials said one person in one of the vehicles that were crashed into was taken to the hospital but will be OK.
No names have been released but police said at least one of the suspects may have been wearing an electronic ankle monitor from a previous crime.
Wilson and Gourdine face several charges, including robbery.
Check back with wsoctv.com for updates on this story.
Cox Media Group