CHARLOTTE, N.C. — American Airlines says it has "stabilized" a computer system that failed at one of its affiliate carriers, causing the cancellation of 2,500 flights over the past week.
The failure occurred in computers used to schedule crews for PSA Airlines, which is owned by American and operates many American Eagle regional flights.
[LINK: Check your flight status on Flight Aware]
"PSA Airlines has stabilized its computer systems and is working to reintroduce flying and get back to regular operations," said American in a news release.
American Airlines said 200 PSA flights were canceled Monday and another 200 flights were canceled Tuesday, following the hundreds of other cancellations since last week.
American said getting back to normal will likely take several days, but officials expect the number of cancellations to drop significantly by Wednesday.
Statement released by American Airlines Wednesday:
"PSA Airlines stabilized its computer systems on Tuesday morning. Since then, team members have been working nonstop to reposition crews and aircraft so the airline can get back to a normal schedule.
"PSA anticipates running approximately 70 to 80 percent of its schedule today and close to a normal operation on Thursday. We apologize to our customers for this serious disruption and we have been working around the clock to rebook passengers as quickly as possible.
"Approximately 2,750 PSA flights have been canceled since last Thursday, 2000 of which have been in CLT. So far today, we have canceled about 85 departures in CLT.
"A huge thank you goes out to all of our team members who have assisted — and continue to assist — our customers and each other during this event."
"PSA will operate a reduced schedule over the next few days as it restores full service. This issue is not affecting any of American's other regional carriers or mainline flights," said American.
One traveler, who has not been identified, got so upset that her flight was canceled Monday night she broke a window while yelling and cursing, according to witnesses.
"She was just screaming, cussing and then I just heard a loud shatter and I looked back and saw all of the glass on the ground," witness Rick Palmer said.
Police had to respond to the incident and said she used her hand to break the glass. Officers cited the woman for damage to property.
"We've been here since Wednesday," traveler Angela Watkins told Channel 9 Monday night.
"It's a hardware issue that was causing some of our applications to run really slowly," American Airlines spokeswoman Katie Cody said Tuesday. She said employees tried to work around the problem, "but the application was running so slow they just couldn't keep up."
Tracking service FlightStats said PSA canceled more than 500 flights by Tuesday afternoon. Cody said all of the airline's morning flights were scrubbed and PSA restarted after the computer system was stabilized.
Cody said there would be some cancellations Wednesday as the airline repositioned planes and crews - FlightStats showed about a dozen.
Cody said they have been providing passengers with hotel rooms and meal vouchers, while trying to fix the problem.
Flight officials said the airline was experiencing a "technical issue" which primarily impacts flights to Charlotte.
We first updated WSOC-TV news app users with a notification just after 8:46 p.m. Sunday to let travelers and their families know about the continued technical issues at the airport.
Download the WSOCTV news app for your smartphone and get updates on this developing story as they come in.
Last week, a "technical problem" grounded more than 120 flights.
Officials said the issue is not affecting any other regional carriers or mainline flights.
American airlines called the problem a hardware issue.
People have been missing work, family functions and personal milestones.
"We work," Watkins said Monday. "I own a day care. I had to shut down. She had to miss work. She had to call in. We lost a day of pay."
Channel 9 spoke with one upset mother who was trying to visit her dad for Father's Day before she got stuck here Monday.
"It's been horrible, just horrible. My father spent a pretty penny for me and my son to come out and visit and to be treated like this is terrible," traveler Shelia Dugan said.
"They canceled the airline. They don't tell me the ETA or what's going to happen," traveler Ruben Broslav said. "They told me they'll let me know tomorrow morning, but I have to be at work, so now I have to get a flight that's $500."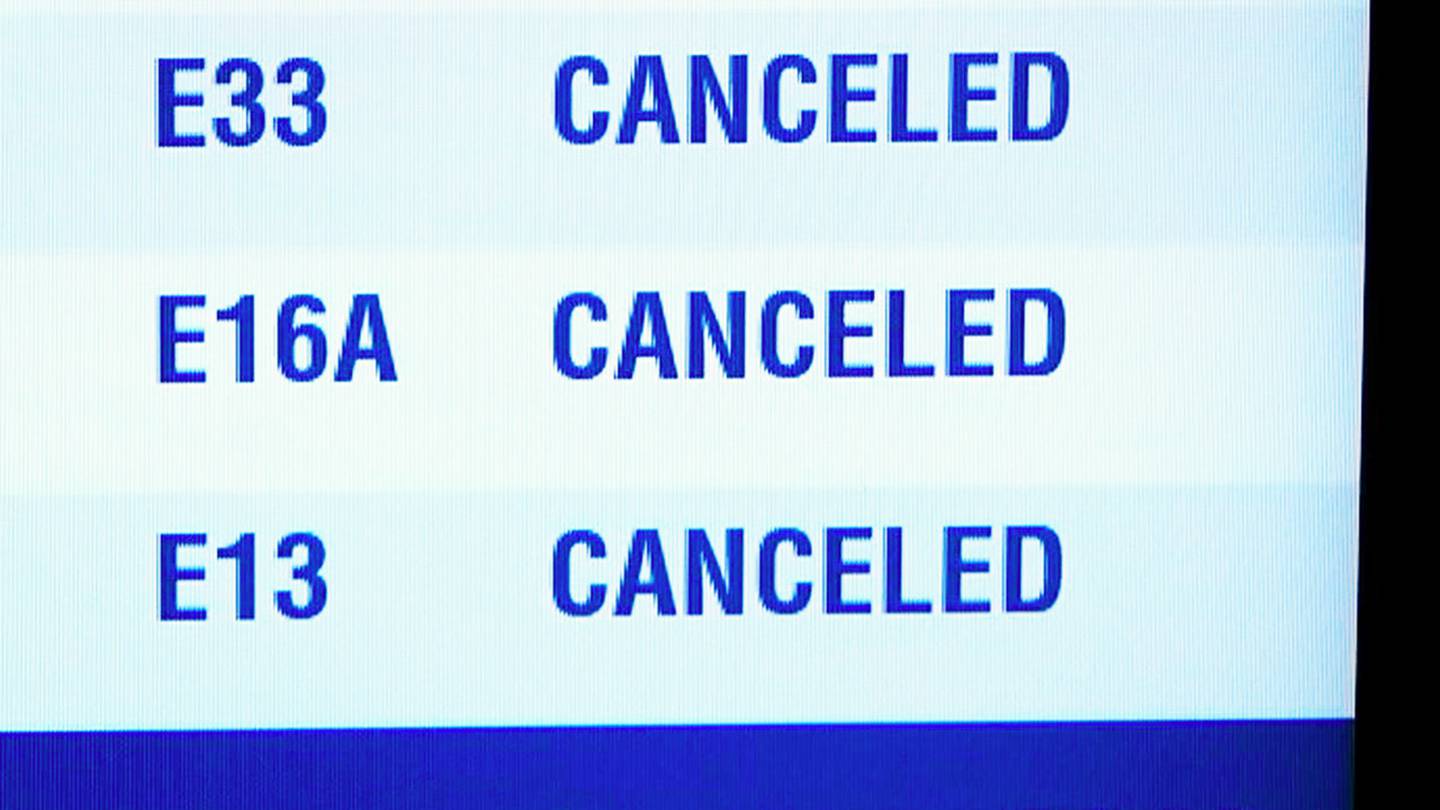 The problem affected pilot and crew schedules and flight operations, so they were not getting their assignments fast enough, officials said. The airline has tried updating the system but it's running slow.
Channel 9 checked with the U.S. Department of Transportation and found that when something like this happens, passengers are not entitled to any kind of compensation. They may be able to get a refund of their ticket price and fees for a significant delay, but if they miss out on a trip, the airline doesn't have to pay for that cost.
Channel 9 came across some entertainers who were trying to get from Las Vegas to Toronto and were trying to keep a good attitude since they are out of options.
"I mean, she should get her guitar out and start singing some songs because you really can't do anything," said Vivian Hicks' mother, Alley.
The problems also put a strain on car rentals. One employee told Channel 9 that 900 vehicles were brought in for rental companies National and Enterprise to accommodate the demand.
The airport ran out of cars on Thursday after the initial computer glitch.
Passengers who were waiting 26 hours to catch new flights said every hour just gets more frustrating.
"I went out off the flight and found about 100 people -- I'm not kidding -- about 100 people standing in line waiting for the customer service for American flights," said traveler Debbie McElwee.
American Airlines released the following statement:
"We understand that these cancellations have been frustrating for our customers and we are doing everything in our power to get things back to normal as quickly as possible. We are rebooking passengers and American's customer relations department will be reaching out to all affected customers. We encourage all customers flying out tonight or tomorrow to check their flight status on aa.com or the American Airlines app."
Flight Aware, a website that tracks the status of flights across the country, reported a ground stop for all flights coming into Charlotte twice on Sunday before eventually postponing the rest of the flights.
Many frustrated passengers at Charlotte Douglas airport told Channel 9 they didn't know what was happening.
"This is the first time it's really been delayed this much," traveler Dave Sier said.
Diana Lynn, who was flying to Asheville, was one of the passengers stranded for hours at the Charlotte airport.
"The first one was canceled. I got my second flight and they weren't even guaranteeing for sure that I was going to be able to even get on that flight," Lynn said.
Hundreds of flights were canceled across the country Thursday, and about half of those were in Charlotte because of the technical issue.
"If there's a technical issue, where's your Plan B?" Lynn asked. "It would take me less time to drive than wait here in the airport and not knowing if it's guaranteed that I'm going to get back home."
On Monday, Charlotte Douglas International Airport released the following statement:
"Charlotte Douglas International Airport continues to provide assistance to the airlines and our passengers as PSA and American Airlines work to resolve their operational issues. We are not sure when these airline issues will be resolved and we strongly recommend that American Airlines passengers with tickets check their flight status before coming to the airport. This issue appears to be isolated to PSA flights. Passengers on other carriers are not affected by this issue.
The airport remains in an irregular operations plan, which was activated Thursday to assist stranded passengers and we remain in that operational status. This includes extended concession and checkpoint hours, additional aviation department support staff and making available emergency supplies to travelers including diapers, wipes and formula, blankets and pillows. We are also assisting in coordinating ground support with additional busses to bring passengers back to the terminal, as necessary. We remain in constant communications with American Airlines and PSA as they continue to work to resume normal operations." 
Read more top trending stories on wsoctv.com:
Cox Media Group