CHAPEL HILL, N.C. — A Confederate statue in the heart of North Carolina's flagship university was toppled Monday night during a rally by hundreds of protesters who decried the memorial known as "Silent Sam" as a symbol of racist heritage.
We updated WSOCTV news app users with a notification just before 6 a.m. Tuesday about the steps the university is taking after protesters took matters into their own hands.
Download the WSOCTV news app for your smartphone and get updates on this developing story as they come in.
The crowd gathered across the street from the University of North Carolina Chapel Hill plaza for a series of speakers at 7 p.m. before heading over to the quadrangle. Then, about two hours into the protest, a group surrounded the statue and pulled it down, according to television footage. Once it was on the ground, demonstrators kicked it and cheered.
RELATED ARTICLES:
A half-hour after it was pulled down, a crowd of dozens remained standing around the empty pedestal. The crowd chanted "Tar Heels!" and "Whose Campus? Our Campus!" Cars honked as they passed nearby on the college town's main drag.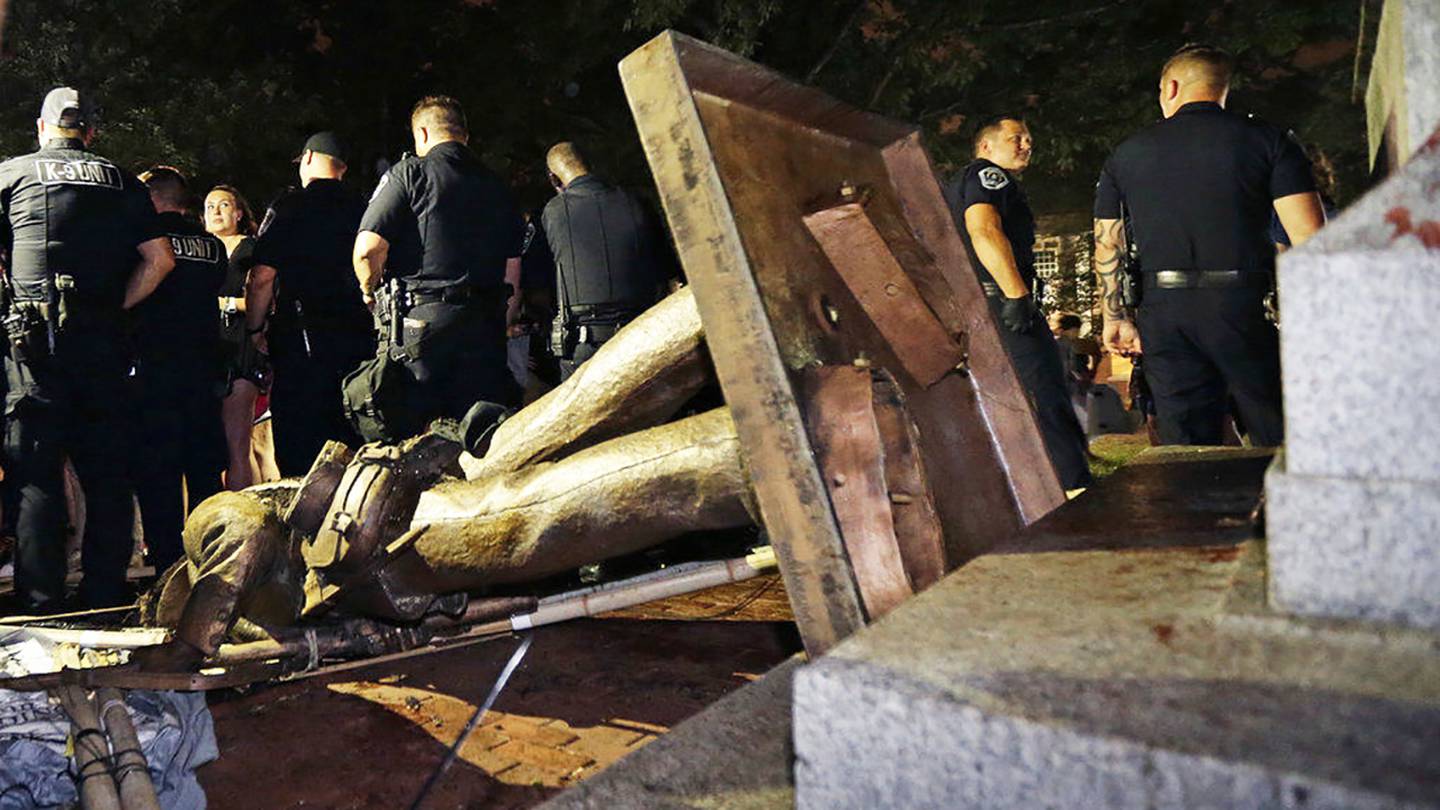 Many students, faculty and alumni have called the statue a racist image and asked officials to remove it, though some argued it was a tribute to fallen ancestors. UNC leaders including Chancellor Carol Folt had previously said state law prevented the school from removing the statue.
Word that the statue had fallen drew curious students out.
(Previous coverage)
"I heard the statue had come down, so I had to see it myself," said freshman Manuel Ricardo, who arrived after the statue was on the ground.
The site of the empty pedestal "is pretty breathtaking," said Ricardo, who's African American. "I think most people here are happy. I'm ecstatic."
Shortly after 10 p.m., a dozen officers were surrounding the fallen statue, which was eventually covered with a tarp next to its empty pedestal.
Junior Ian Goodson said he came out after he heard the statue fell because he wanted to see history.
"It's a significant event for UNC," he said.
Confederate statue on UNC campus knocked down by protesters

Protesters cheer after knocking down a Confederate statue on The University of North Carolina at Chapel Hill campus on Monday night. UNC said in a tweet that the protesters' actions were dangerous, and that it was fortunate that "no one was injured." https://abcn.ws/2Ps5HpB

Posted by ABC News on Tuesday, August 21, 2018
He said that while he doesn't agree with what the Confederacy stood for, he understands that some saw the statue as an important memorial.
Asked whether he's glad the statue came down, he said: "I was always kind of torn."
North Carolina, which ranks among the handful of Southern states with the most Confederate monuments, has been a focal point in the national debate over them following a deadly white nationalist protest a year ago in Charlottesville, Virginia.
Protests over the UNC statue erected in 1913 have flared in the past year, and another Confederate monument in nearby Durham was torn down shortly after the Virginia protest.
Gov. Roy Cooper had called for removing Silent Sam and other rebel symbols on public land. A state historic panel is set to meet this week to debate Cooper's request to remove other Confederate monuments at the state Capitol.
Still the Democratic governor issued a statement on Twitter Monday night arguing the protesters took the wrong approach to removing the statue.
"The Governor understands that many people are frustrated by the pace of change and he shares their frustration, but violent destruction of public property has no place in our communities," said the tweet from his official account.
The university echoed the sentiment in a statement issued after the statue came down.
"Tonight's actions were dangerous, and we are very fortunate that no one was injured. We are investigating the vandalism and assessing the full extent of the damage," the university said in a tweet.
The UNC System Board Chair Harry Smith and UNC System President Margaret Spellings issued a joint statement.
"We have been in touch with UNC-Chapel Hill Trustee Chair Cochrane and Chancellor Folt both last night and this morning about the removal of the Silent Sam statue on UNC-CH's campus. Campus leadership is in collaboration with campus police, who are pulling together a timeline of the events, reviewing video evidence, and conducting interviews that will inform a full criminal investigation.
The safety and security of our students, faculty, and staff is paramount. And the actions last evening were unacceptable, dangerous, and incomprehensible. We are a nation of laws—and mob rule and the intentional destruction of public property will not be tolerated."
Statement from Gov. Roy Cooper's office:
"Gov. Cooper has been in contact with local law enforcement and UNC officials regarding tonight's rally and appreciates their efforts to keep people safe. The governor understands that many people are frustrated by the pace of change and he shares their frustration, but violent destruction of public property has no place in our communities."
The same debate has brewed across the state.
Just this past weekend, someone dumped paint on the "Fame" Confederate monument in Salisbury.
[RELATED: Salisbury residents concerned about racial tensions after Confederate monument vandalized]
Two years ago a confederate monument near Memorial Stadium in Charlotte had a protective case placed over it after someone defaced.
Lawmakers, the same year, passed a law preventing the removal of statues without permission from the North Carolina Historical Commission.
[ [Leaders weigh in after Cooper calls for Confederate monuments to come down]  ]
The commission was considering the removal of the "Silent Sam" statue and was set to make a decision.
Read more top trending stories on wsoctv.com:
Cox Media Group