PINEVILLE, N.C. — The man who was shot by police in Pineville Saturday is out of the hospital and was booked into jail, according to investigators.
Timothy Rochell Caraway, 23, is facing several charges, including four felony accounts of assault with a firearm on a law enforcement officer.
He is scheduled to appear before a judge on Wednesday.
The shooting happened just after 10:30 a.m. along North Polk Street, off Pineville-Matthews Road near Interstate 485.
Officers said they received a 911 call saying a man was walking down the sidewalk on Polk Street, waving a handgun and pointing it at people passing by.
(Listen to the call below)
One officer responded to the area but received backup from several other officers. When they arrived at the scene, those officers tried to talk to the man but they said he did not listen.
Officials said two officers shot the suspect because they feared for their safety.
No officers were hurt in the shooting.
The officers who fired their guns, Officer Adam Roberts and Officer Jamon Griffin, have been placed on administrative leave, which is standard procedure.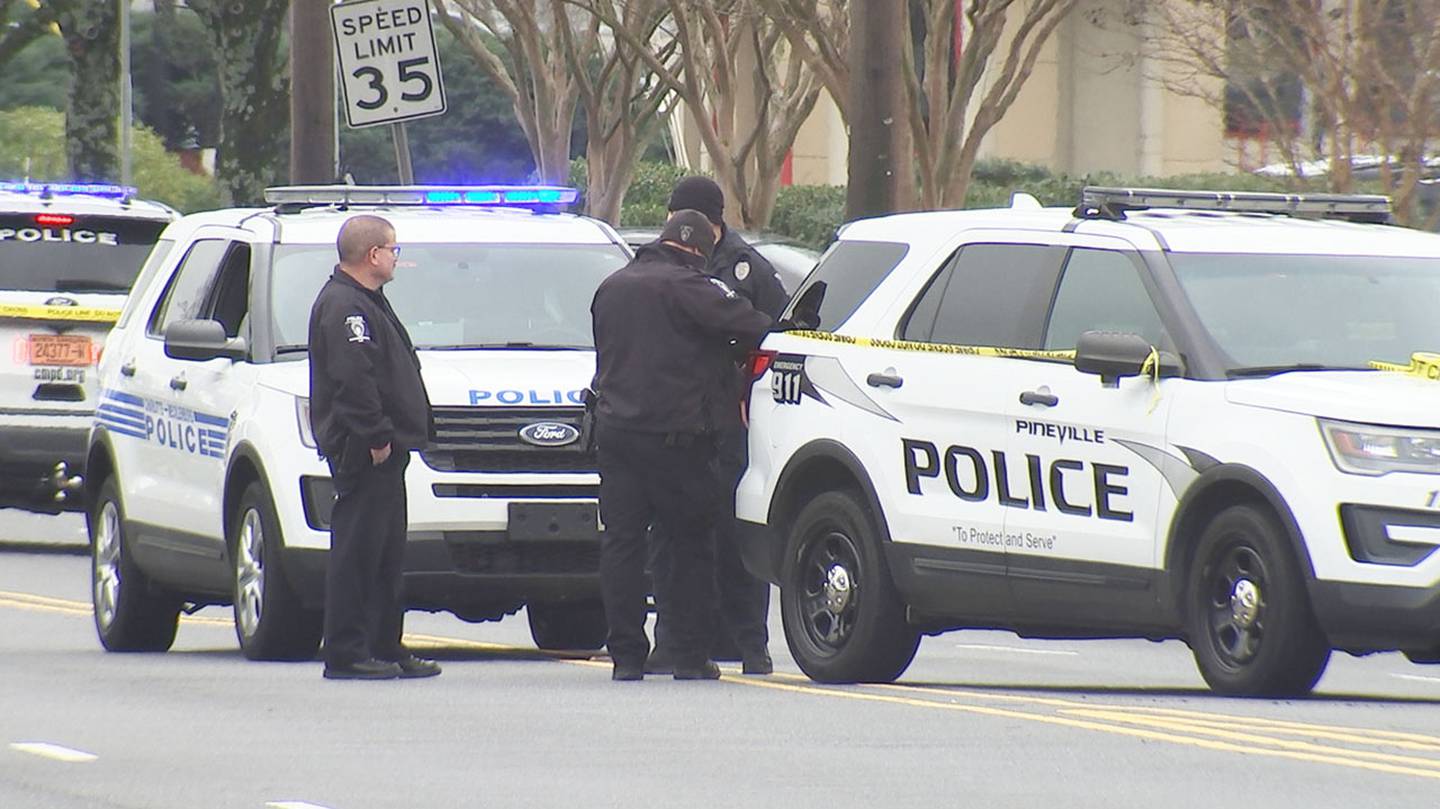 According to officials, a handgun was found at the crime scene with the man who was shot.
Police said many of the businesses in the area were open at the time so they are looking for surveillance footage of the incident. They also interviewed several witnesses.
"At this time of day, this is a commercial area in Pineville, so there are a lot of people out and about. All the businesses we know that surround this area were open," Lt. Corey Copley with Pineville police said.
Charlotte-Mecklenburg police officers could be seen helping Pineville police with traffic through the area. The North Carolina SBI and the Mecklenburg County District Attorney's Office are helping with the investigation.
"This seems to be a pretty good area. I've worked here for about eight years and haven't had any trouble myself but you never know," said Pineville resident, Mark Laszlo.
This is an ongoing investigation. Check back with wsoctv.com for more information.
Read more top trending stories on wsoctv.com:
© 2020 Cox Media Group